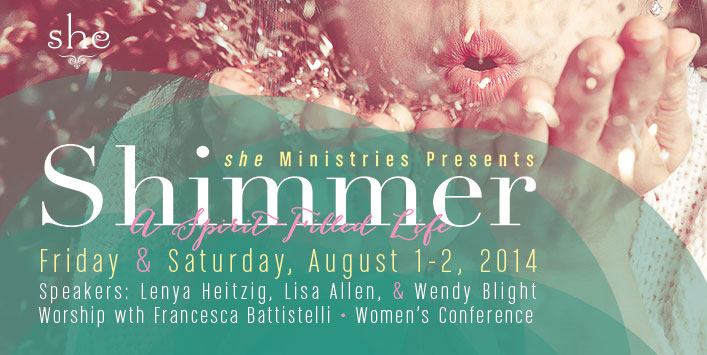 Shimmer: A Spirit-Filled Life
Lenya Heitzig and she Ministries invite you to attend Shimmer: A Spirit-Filled Life, a women's conference with Lisa Allen, executive director of Proverbs 31 Ministries, speaker, and life coach, and Wendy Blight, an author, speaker, and Bible teacher. Grammy nominee and six-time Dove Award winner Francesca Battistelli will lead us in worship. The Holy Spirit wants to shimmer through our lives into a world that desperately needs His light. We want to help you grow in four main areas of your walk: salvation, sanctification, glorification, and fortification. Together, we will learn practical ways to "have this light shining in our hearts...[making] it clear that our great power is from God, not from ourselves" (2 Cor. 4:7, NLT). Through main session teachings, practical applications, audience participation, and take-away tools, this event will deliver a shock to your life and get you in sync with the Holy Spirit.
Registration
ONLINE REGISRATION IS CLOSED, REGISTRATION IS AVAILABLE AT THE DOOR BEGINNING AT 4:00 PM!
Shimmer: A Spirit-Filled Life will be held at Calvary Albuquerque Friday-Saturday, August 1-2, 2014.
Admission is $30
Food vendors will be on campus for lunch on Saturday. You need to purchase a meal ticket at the conference—$6.00 CASH ONLY. Exact change appreciated. The lunch hour is picnic style throughout the campus so you can pack your own lunch as well although there is no food and drink allowed in the Main Sanctuary.
Contact information is required for each individual registered (first and last name and email).
A maximum of five people may be registered per transaction.
Seating is on a first come, first served basis in the main sanctuary.
Tickets may not be purchased at the door.
This is a women's event (ages fifteen and up).
No childcare is available for this event. Nursing infants (four months and younger) may be brought to the event. Please plan to sit toward the back or in the nursing mother's room so you can easily slip out should the need arise (space is limited).