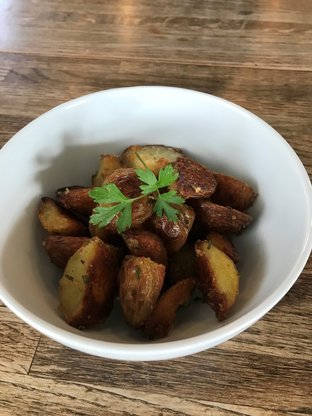 Crispy Roasted Potatoes
May 14, 2018 / Comments (0) / Written by Natalie Wylie
One of my favorite things to do is take an entire afternoon and do a huge cookup of different foods that we can eat throughout the week. Taking the time to do it in a long afternoon ends up saving me SO much time later because I'm getting all the messy cooking and cleanup done at once! These roasted potatoes are a great option to throw an egg over in the morning or to serve alongside a protein at night! I will say that they taste best when they are straight out of the oven because that's when you get the crisp, but the delicious flavor far outlasts that if you want to reheat them later!
Ingredients:
-Salt and pepper
-½ tsp baking soda
-3-4 lbs potatoes cut into bite sized pieces (I used baby creamers, but russet or any other basic potato works)
-4-5 TBSP olive oil or cooking fat of choice (I used leftover bacon grease for extra flavor!)
-Small bunch of rosemary leaves, finely chopped
-3 cloves of garlic, minced
-Small bunch of parsley leaves, minced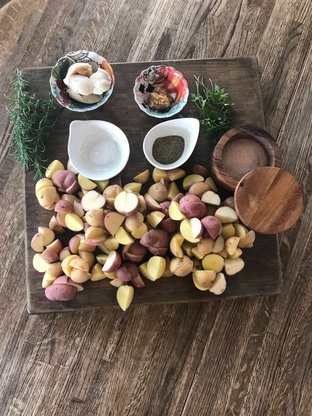 Here's what you do:
Turn your oven on to 450 degrees Fahrenheit and make sure your rack is in the center position. Heat up a pot of hot water (large enough to submerge the potatoes in) until boiling. Add 1.5 TBSP salt, baking soda, potatoes, and stir to mix.
Return the pot to a boil and then reduce to simmer. Cook until the potatoes are soft, but still meet a fork with a bit of resistance (around 10 minutes or so).
While the potatoes are cooking, combine your cooking fat with rosemary, garlic, and a few dashes of black pepper over medium heat. Stir constantly for a few minutes until the garlic begins to cook to a golden brown. Strain the herbs and garlic (using a fine mesh strainer or whatever you have on hand) and reserve both the herb/garlic mixture and the infused oil separately.
Once the potatoes have finished cooking, drain the water and let them sit for a minute or so. Then, combine the potatoes and the infused oil in a large bowl. Stir until it builds up a "mashed potato" like covering. It should look like this.
After roasting, transfer the potatoes back into the large bowl and add the garlic/rosemary mixture as well as your parsley in. Season with additional salt and pepper if needed and serve!
Place the potatoes on a large baking sheet and spread them out evenly. Roast them in your preheated oven for 20 minutes. Then, turn the potatoes and roast for another 20 minutes or so until they are browned and crispy.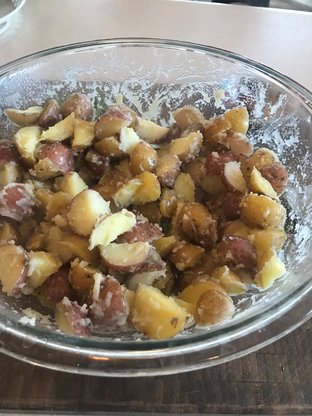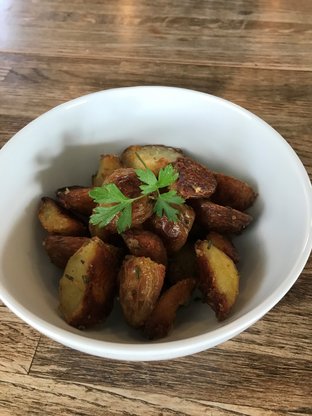 Natalie Wylie
There are currently no comments for this article.