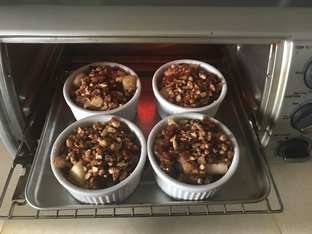 Paleo Pear Crisp
Mar 08, 2018 / Comments (0) / Written by Natalie Wylie
If you're looking for a quick and easy treat to serve up for a night with family and friends, look no further. This pear dessert is paleo, meaning there's no dairy, no gluten, and no refined sugar. It will fit in with many people's dietary restrictions and taste delicious—without any guilt! This specific recipe serves four, but you can easily multiply it to serve as many as needed.
Ingredients:
Filling:
2 pears
A sprinkle of coconut flour (a tablespoon at most)
A sprinkle of lemon juice
A sprinkle of cinnamon
Topping:
1/4 cup almonds
1/4 cup pecans
2 dates
1/2 tsp. cinnamon
1/2 tbsp. coconut oil (softened)
Instructions:
Preheat the oven to 350 degrees.
For filling: Dice the pears and place them in a bowl with the coconut flour, lemon juice, and cinnamon. You only need enough of the last three ingredients to lightly coat the pears, so the amount will depend upon how large your pears are.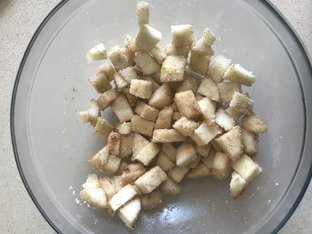 Finely dice the almonds, pecans, and dates.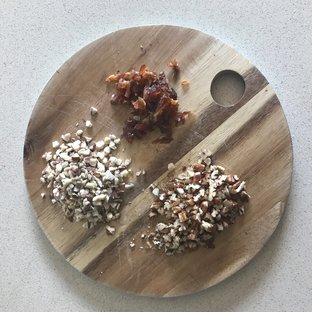 Combine the nuts, dates, coconut oil, and cinnamon in a bowl.
Place the pear mixture in individual ramekins or a small baking pan.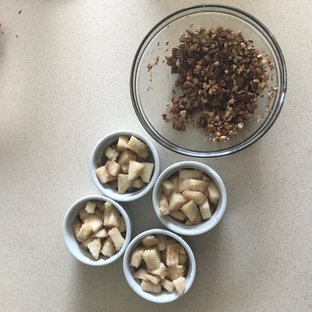 Top the pear filling with the topping and place in the oven for twenty minutes or until the pears are cooked through to your liking and the topping has just started to brown. Enjoy!
Additional notes:
If you aren't worried about the dietary aspect, this dessert can be enjoyed with a scoop of ice cream on top. You can also add a small handful of blueberries and/or blackberries to your pear mixture for some added sweetness and flavor. Play around with this simple and delicious recipe to find what you prefer most.
Natalie Wylie
There are currently no comments for this article.