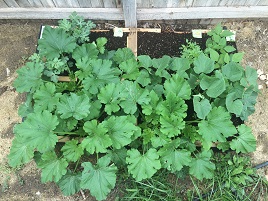 Pallet Garden
Jun 17, 2016 / Comments (0) / Written by Natalie Wylie
Some of us are hoping that we can get excited about fruits and vegetables so we can make necessary diet changes, some of us need a summer project, and some of us just need an excuse to be outside so we can work on our tan. Whatever your reason, I have a wonderful project for you! A pallet garden. This is an easy, inexpensive way to grow your own food, which makes it much more fun to eat! Aside from that, you'll be saving money on fresh produce since you can get it right from your backyard!
I have a long, narrow stretch of space in my yard that is perfect for a garden, but the soil is extremely sandy. To prepare all of the soil in order to plant a garden directly into the ground would have been very labor intensive and expensive, so a pallet garden was the perfect solution for me!
Supplies:
-Pallet (Note: you can get these for free! Either drive around business dumpsters (many will have them sitting next to them) or look on Craigslist
-Weed blocking material
-Stapler
-Potting soil and gloves (if you don't like getting dirt under your nails!)
-Seed packets or plant starters (packets are much less expensive)
-Hammer/crowbar if you need to remove some pieces of wood from the pallet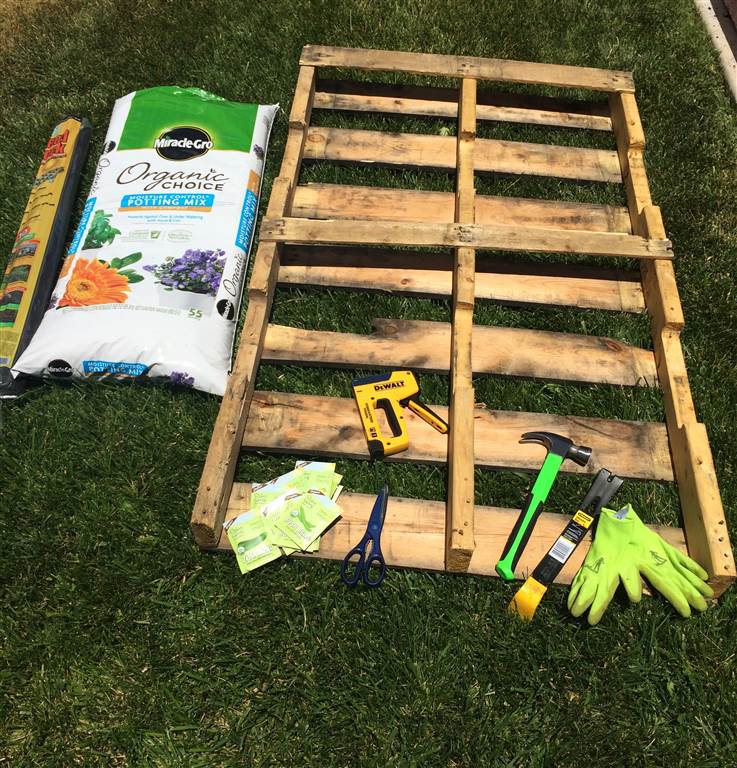 Step One:
Remove a majority of the wood slats on one side of the pallet. I got lucky and had a pallet that already had most of the slats removed. I opted to leave the middle beam in order to create quadrants for mine.
Step Two:
Lay the pallet down upside down and staple the weed blocker onto the bottom. Be sure to allow enough extra material on the edges to go all the way around the open ends.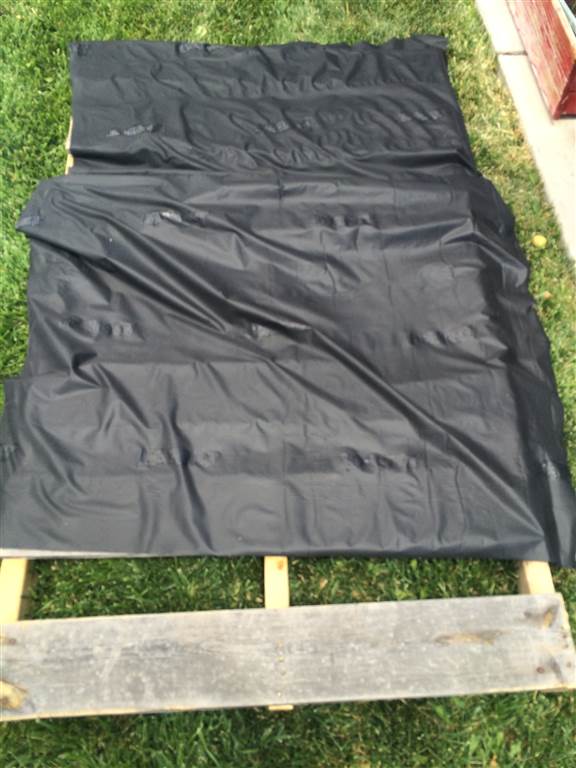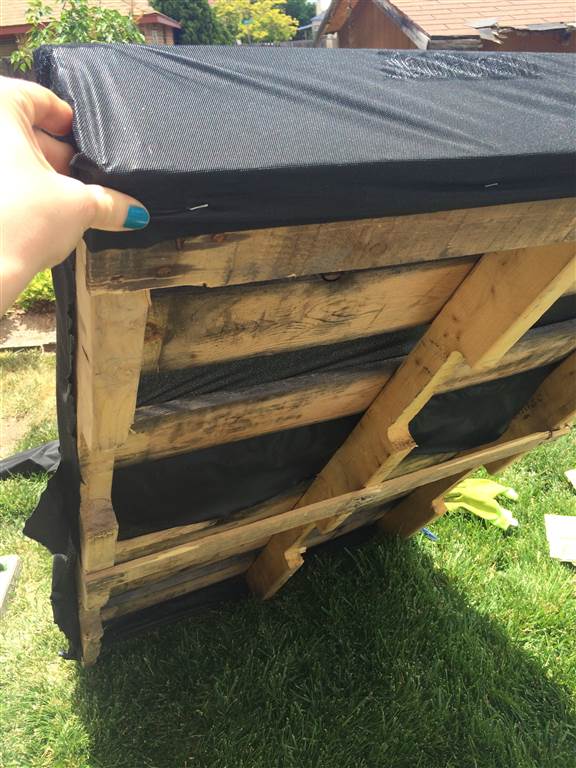 Step Three:
Once the weed blocker is tightly stapled and all of the bottom and edges are covered, put the garden where you want it to be. It is very important to get it in place at this point because it is nearly impossible to move once you add your soil! Note: pay attention to the instructions on your fruit and vegetable packages; make sure to choose a place that receives adequate sun!
Step Four:
Fill your pallet with soil; the amount you need will vary with the size of the pallet. The pallet I used took two fifty-five-quart bags of soil.
Step Five:
Plant your veggies and fruits according to the package directions. You can find lists online of types of plants that you should not plant next to each other; check it out so that you will have the most success possible with your garden! Note: I stapled the seed packets to the pallet so that I'd know where I planted what. At some point, I plan to make cuter garden markers, but we are taking this one step at a time!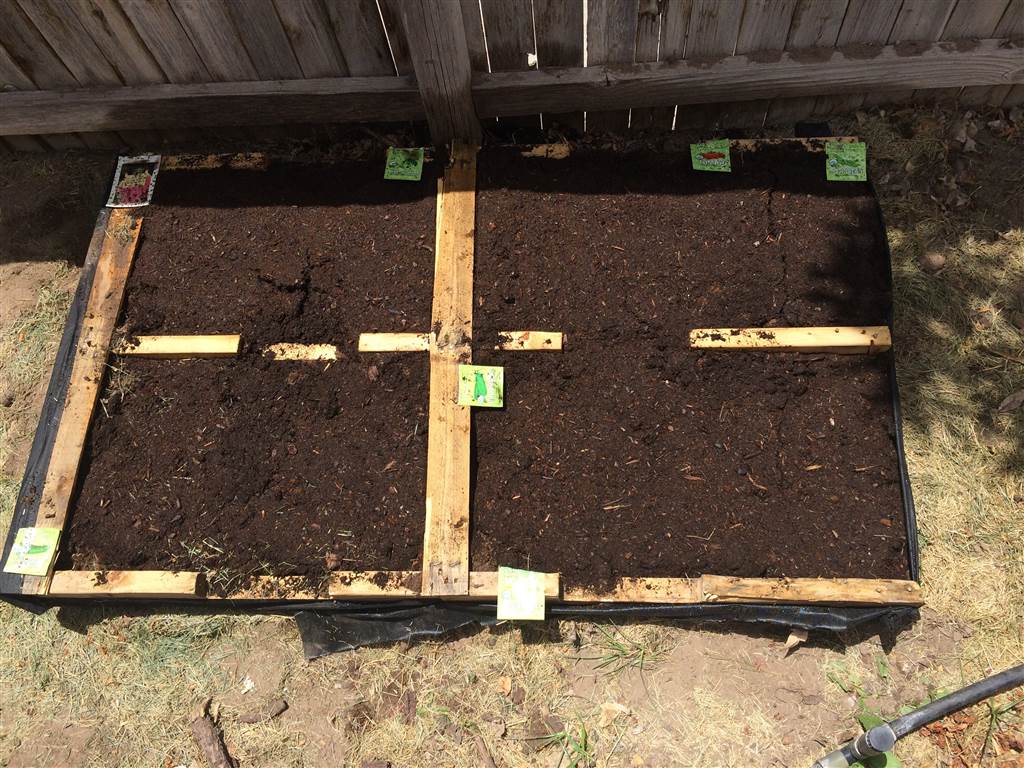 Step Six:
Water, and watch your garden grow!
After three weeks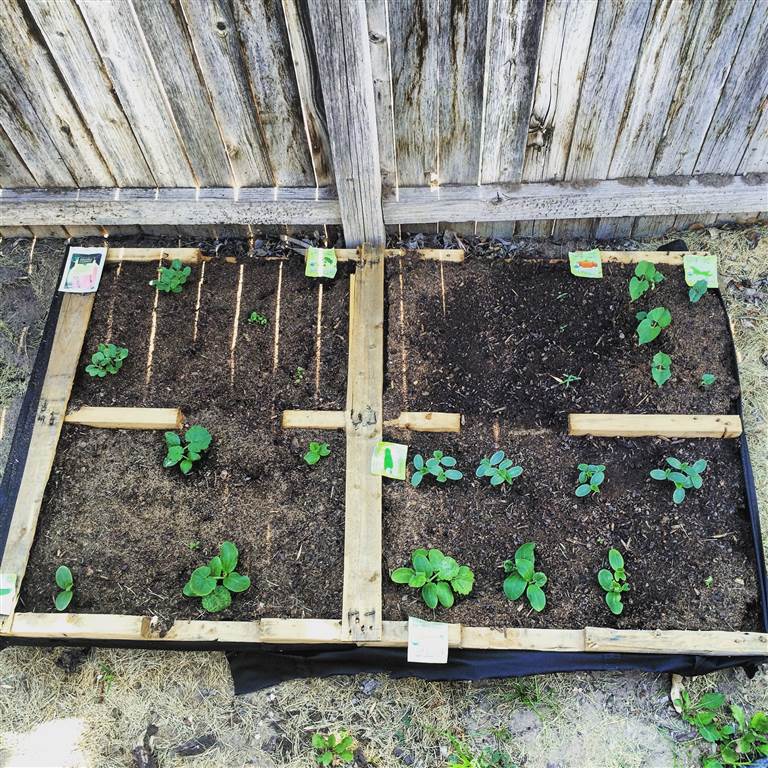 After five weeks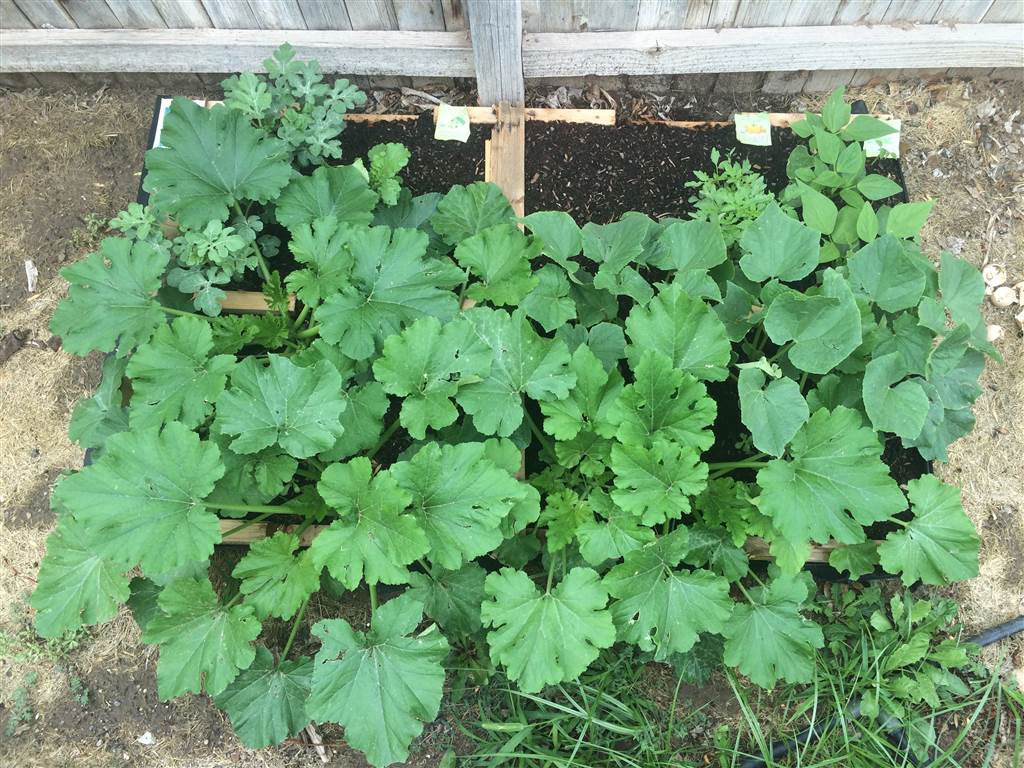 Tips:
Choose plants that have a shallow root system and grow primarily above ground. Avoid carrots or other root vegetables that need a lot of depth to grow. You can find lists online of plants with shallow roots. I'm experimenting, but I chose to grow zucchini, squash, green beans, tomatoes, broccoli, and watermelon.
I hand-water mine every day unless it has rained quite a bit. I missed one day when the sprouts were really small, and the heat fried a few of my broccoli plants, so be sure to take good care of them! Alternatively, you can attach your pallet garden to a drip system so that it's really low maintenance for you.
I hope you enjoy this project as much as I did. It is so fun and satisfying to grow your own food!
Natalie Wylie
There are currently no comments for this article.