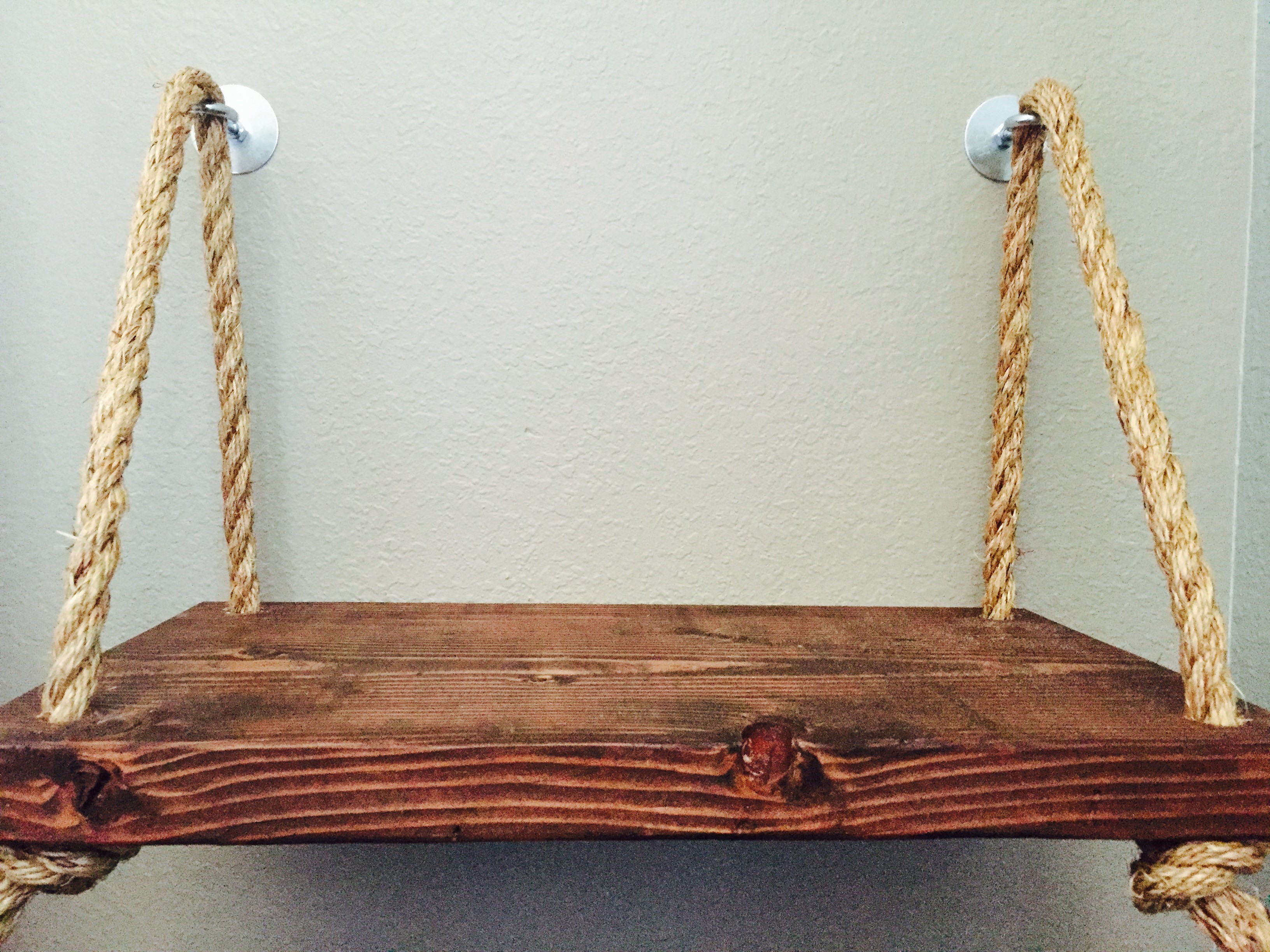 End Table/Shelf
Jan 08, 2016 / Comments (0) / Written by Natalie Wylie
My husband and I recently bought our first home, and while we are having so much fun decorating, it can get expensive. We try to be as creative and DIY as possible to create an atmosphere that we love while not going wild with our spending. This project is great for extra shelving wherever needed. We adapted it to create fun side tables for our guest bedroom. You can easily customize it to fill your space and needs. I share the specifics of our shelves below, but you can customize the width, thickness, and length of your shelves and rope to give you the finished product you want.
What you need:
Wood
Sandpaper
Electric handheld sander, optional
Stain
Gloves
Foam brush
Rags
Rope, two pieces per shelf (We cut a thick sturdy rope into 50-inch lengths)
Scissors, optional
Toggle eye bolts and washers
A drill
Drill bits
Small L bracket, optional
Step One:
Cut your wood to desired length. We cut a large 6'x11"x1.5" piece of wood into 20-inch lengths for ours. Many home improvement stores will do this step for you if you don't have a saw—just ask a friendly associate.
Step Two:
Sand any rough edges and wipe the wood clean with a dry cloth. We used an electric handheld sander to speed up the process, but if you don't have one, just put in some extra elbow work!
Step Three:
Use a foam brush or rag to apply the stain. Do a quick coat and then wipe away the excess with a dry rag if you want the wood grain to show through.
Step Four:
Measure and mark the desired distance between the ropes. Drill the holes. Make sure you are using a drill bit just big enough to make a hole that the rope can fit tightly through. Our measurements were 17¼" side to side and 8½" front to back.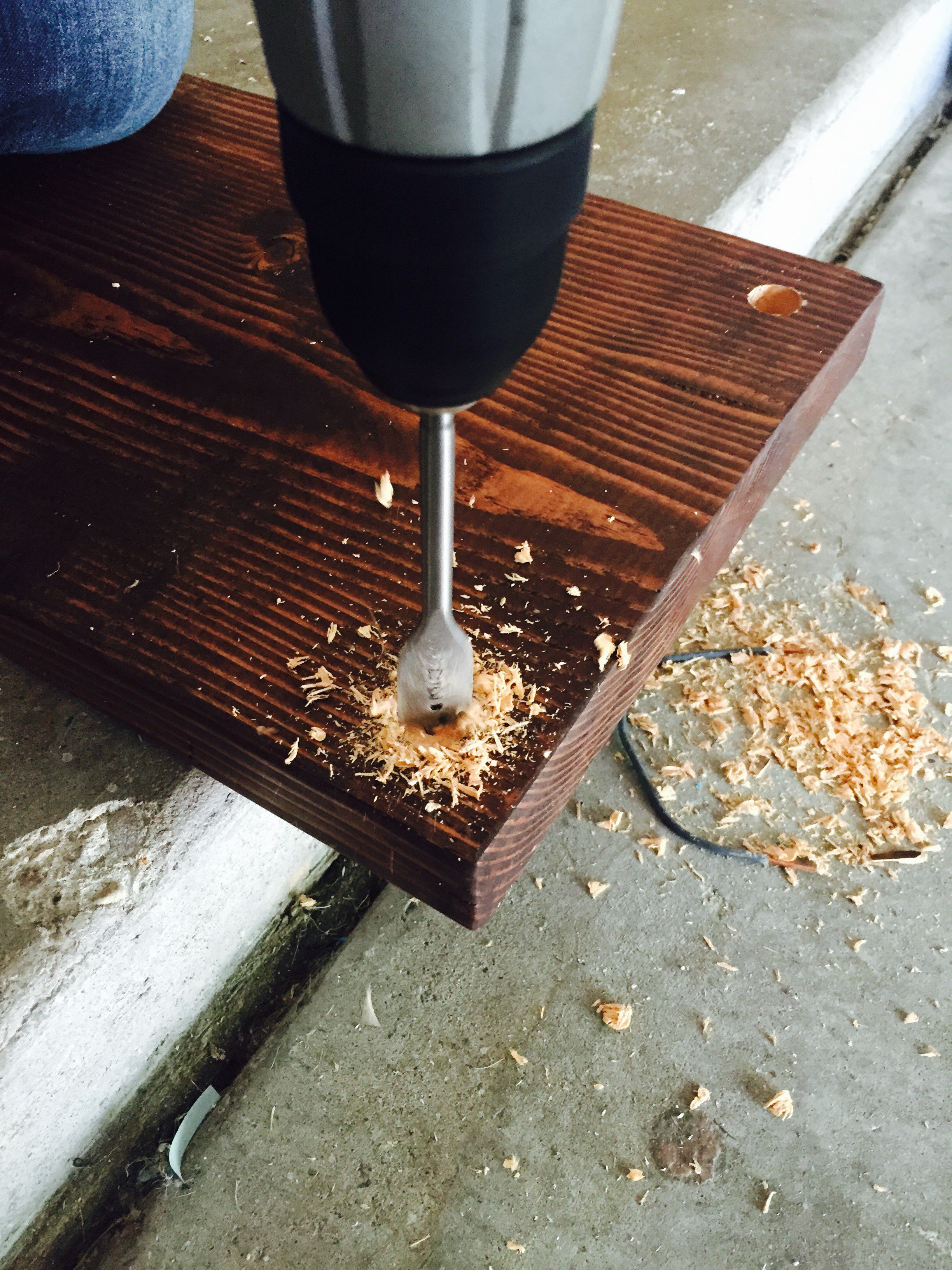 Step Five:
Drill wall holes and install toggle eye bolts. We spoke to an associate at our local hardware store in order to find the right size and length of bolt for our project. I would advise you to do the same. To install, drill a hole just large enough for the toggle portion to fit through when squeezing it together. Make sure you match the distance between your bolts to the distance between your holes on the shelf. Insert the toggle eye bolt with the washer in position as you see in the photo, and tighten it until it's snug.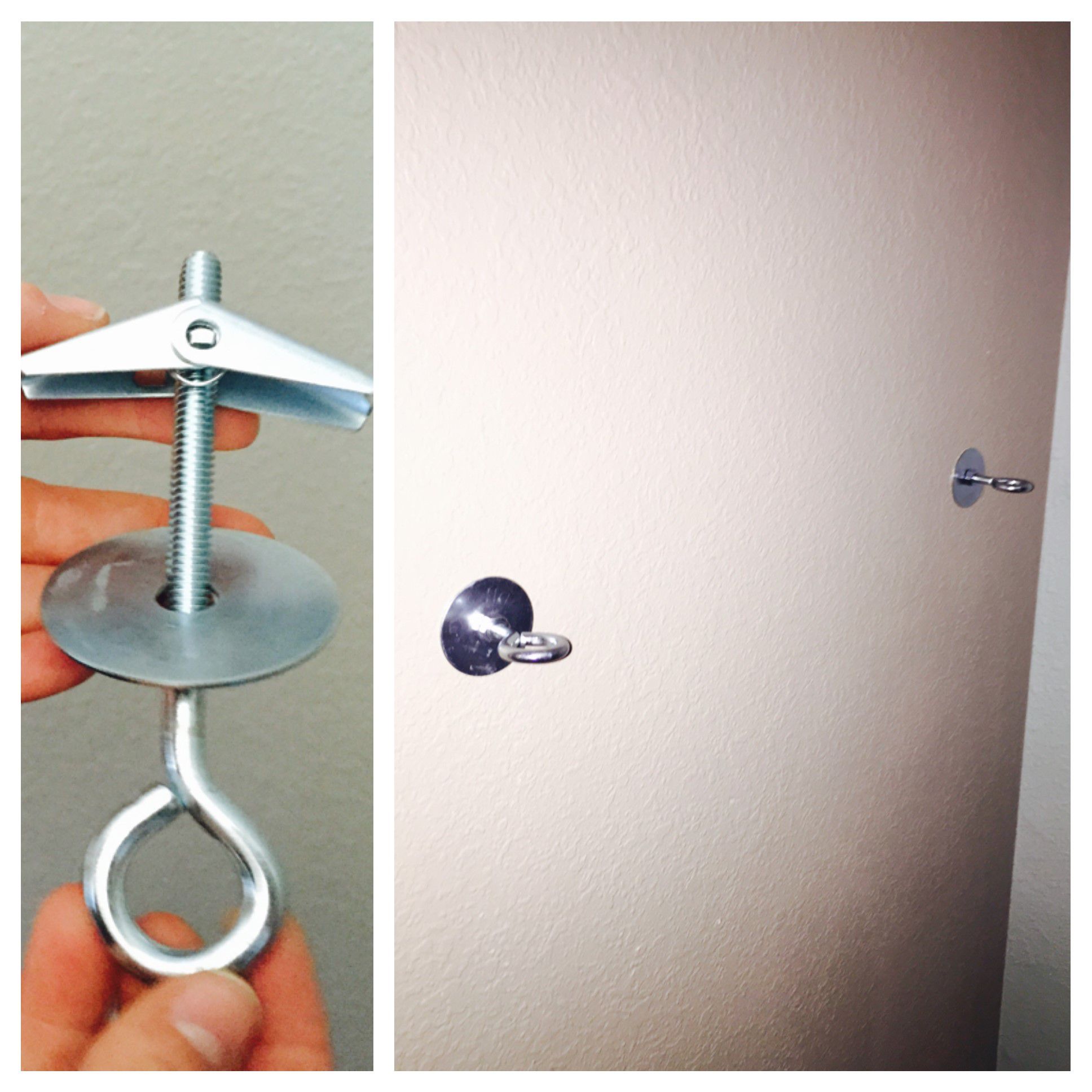 Tip: Check for studs in your wall and avoid them when installing toggle eye bolts. If you want to install them into studs, talk to someone at a home improvement store for the best option to ensure that your wall stud doesn't split.
Step Six:
Tie a knot in one end of the rope, feed it up through the underside of the shelf and then up through the eye of the bolt. Then feed the rope down through the front of the shelf and tie another knot. It was very helpful to have two people for this step.
Tip: Tape the end of your rope so it doesn't fray.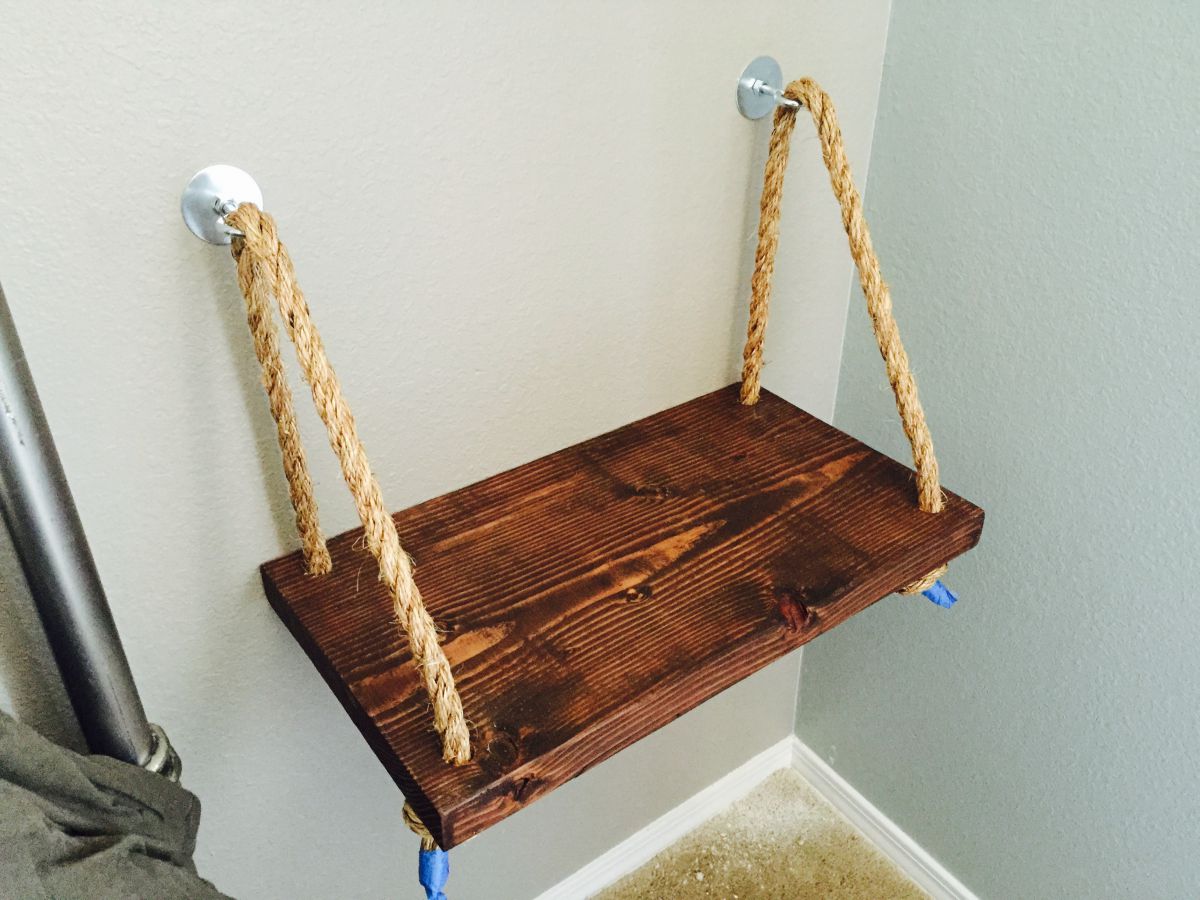 Step Seven:
Take the tape off the rope, step back, and enjoy your lovely shelf!
Tip: If you want to make the shelf steadier, install a small L bracket that attaches the shelf to the wall. We didn't feel the need to do so because the width of the shelf itself keeps it in place.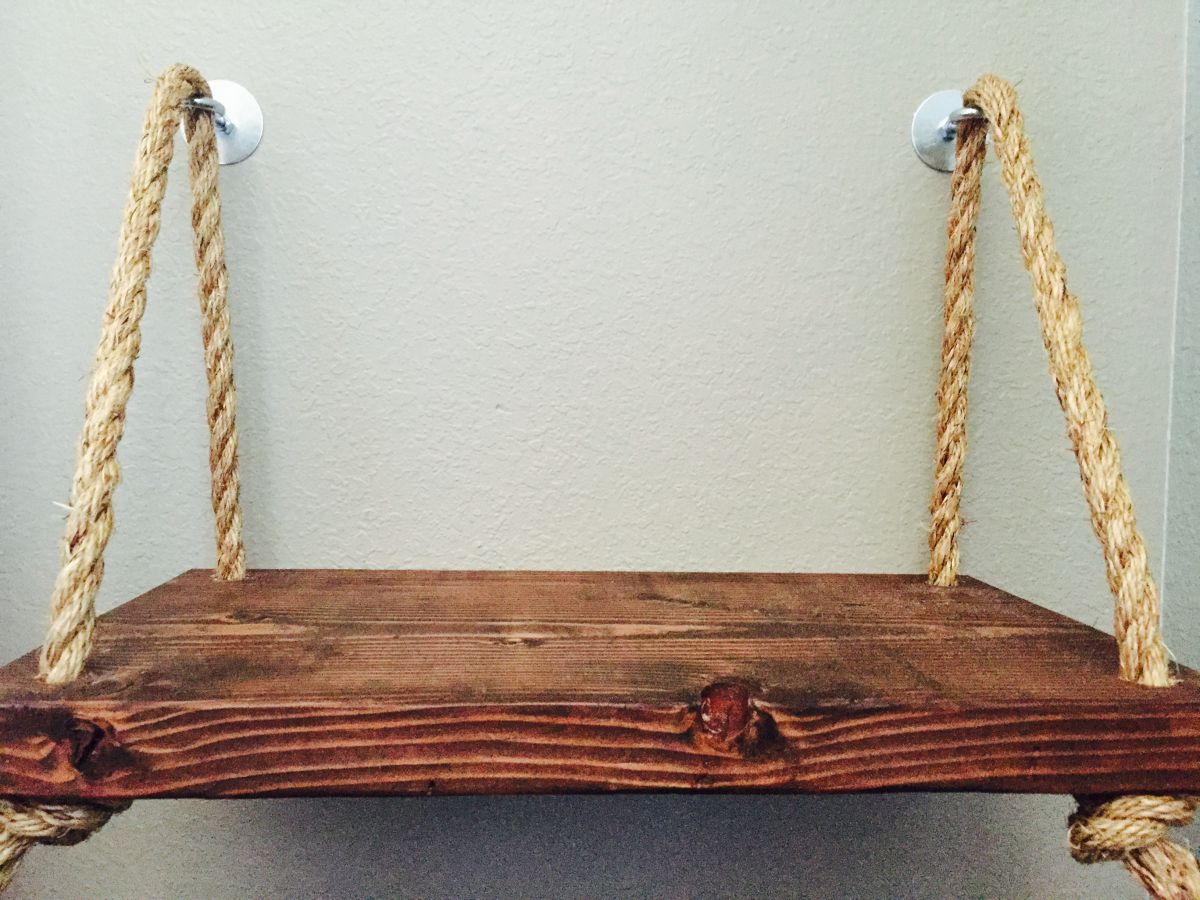 Style your shelf as desired, and enjoy your handiwork! This project can be used to fill up empty space on any wall in your home. You can use it as a decorative shelf or as a stylish storage solution.
Natalie Wylie
There are currently no comments for this article.