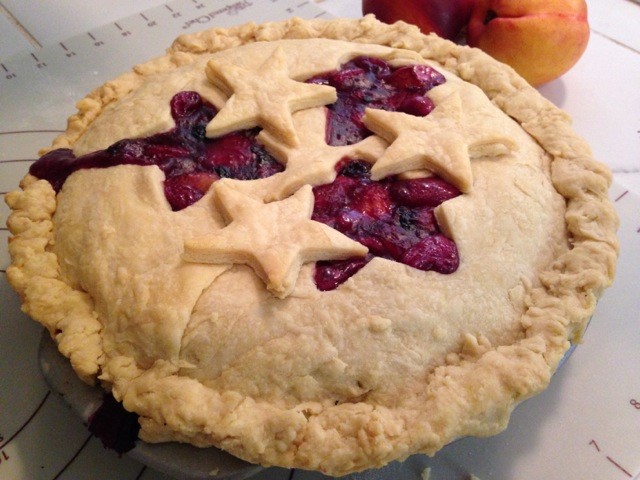 Summer's End Pie
Sep 09, 2015 / Comments (0) / Written by Maria Pardo
I remember the flour-covered yellow index card my grandmother would pull out along with the ingredients for her pie crust. This crust follows her basic recipe with a few adjustments. I use it often with great success. The fruit filling is a combination I came up with one late summer day, and it has been a family favorite.
Supplies:
1 large pot 1 large mixing bowl 1 small bowl
Forks
1 spoon
Measuring cups
1 standard pie dish
1 rolling pin
1 clean, dry surface
1 cookie sheet
Ingredients for Pie Crust:
1 cup of salted butter (room-temperature)*
2 1/4 cup unbleached all-purpose flour
1/4 cup flour (separately)
1/2 cup cold tap water
Ingredients for Filling:
9 nectarines, rinsed, cut, and pitted (you may leave skin on if desired)
3/4 cup fresh or frozen blueberries
1/2 cup sugar
1/2 cup cornstarch
1/4-1/2 cup water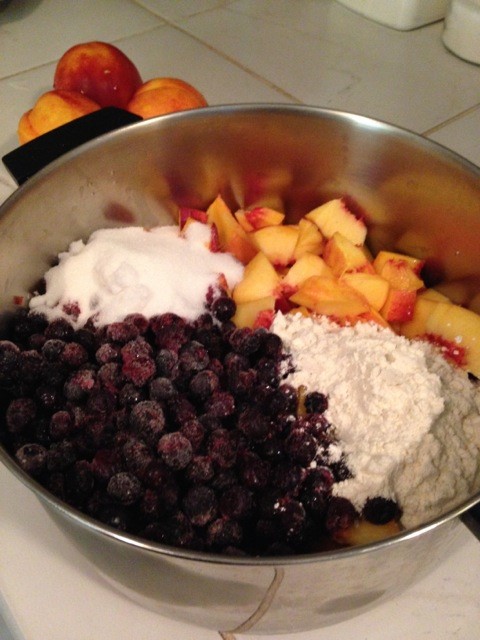 1. Put all of the filling ingredients into a large pot, stir together, and add in a little of the water. Put on the stove at a medium-low temperature to simmer. You will need to keep an eye on this to prevent burning. If the mixture begins to boil, turn down the heat and stir. Simmer for about twenty minutes or until thickened.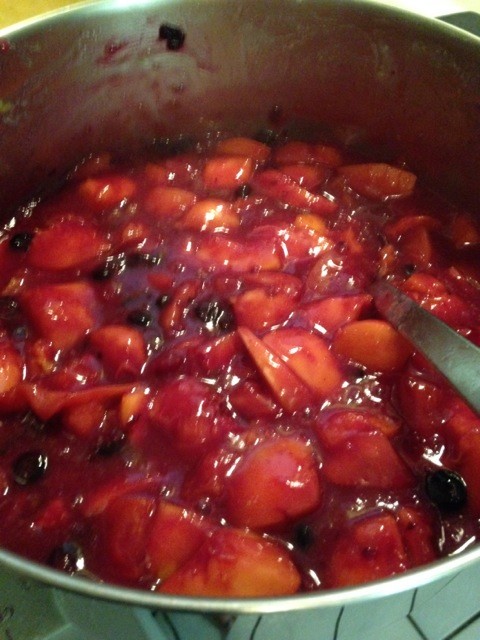 2. Preheat oven to 350°.
3. For the crust: in a large mixing bowl roughly cut butter into small pieces with a knife.
4. Add 2 1/4 cup flour. Cut the flour and butter together using a pastry blender (if you do not have one, you can use a large fork). The mixture should be crumbly and look like tiny peas.
5. In a small mug or bowl, mix together 1/4 cup of flour and 1/2 cup tap water with a fork. This mixture should be paste-like.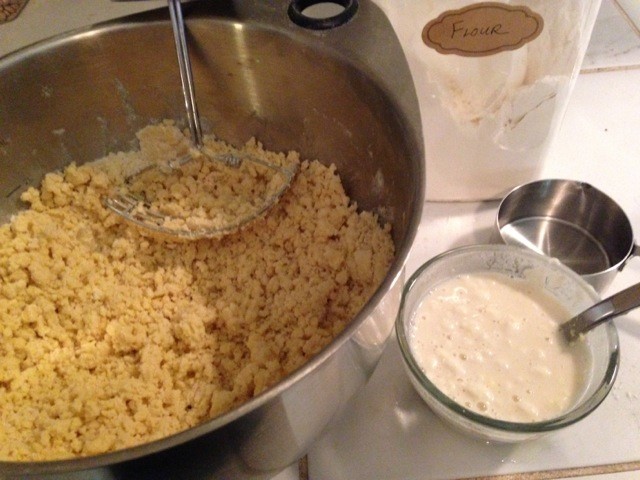 6. Pour the flour/water paste into the first flour mixture. Using a fork, stir together until it forms a soft dough.
7. Turn the dough out onto a pre-cleaned, lightly floured surface and divide into two equal parts. The dough usually requires a little working together by folding it on itself with your hands.
8. Roll each part into a circle that will fill a pie tin (about 10-12" in diameter and about 1/8" thick).
9. Place one of the crust pieces into your pie tin; pour the filling inside.
10. Place the other rolled-out crust** on top and trim the edges, leaving a slight overhang. Then roll the bottom layer of the crust over the top and form the pie crust edge. Add a few slits in the crust top.
11. Bake for twenty-five minutes or until lightly golden on top. (I recommend leaving a cookie sheet on the oven rack below the pie to catch any drips from the filling.) Allow to cool before slicing.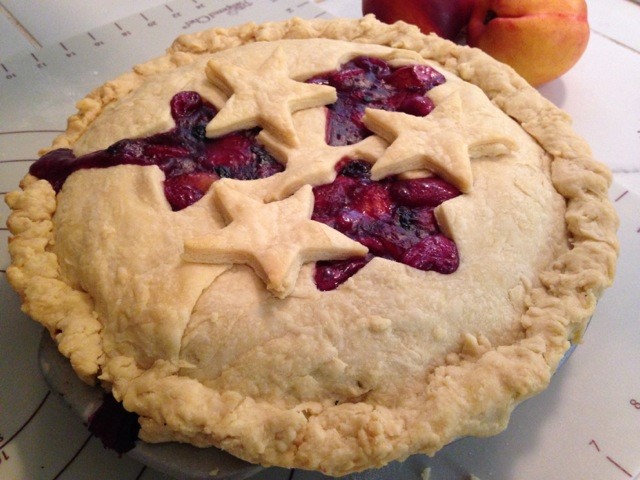 Tips/Extra Notes:
Usually you will find there is a little pie crust dough left over from the trimming. I always wondered if this was intentional or not, as it would become a treat for those doing the baking. My grandmother used to take that bit of dough and roll it out. She would then fill it with a small spoonful of jelly, roll it up on itself, and bake for fifteen minutes. This was always one of my favorite parts of making pie, and I now share it with my children as a treat for their help.
*You may substitute one cup of shortening plus a 1/2 tsp of salt for the butter, or use a combination of half butter, half shortening.
**For a decorative flare, cut shapes in the top crust with a cookie cutter while it is rolled flat, then carefully place it and the cut shapes on top of the filling.
The pie crust recipe is my go-to recipe for many types of pies and always gets good reviews from those who share it. I've used it for mini-pies, quiches, apple, pumpkin, and even meat pie. I hope you enjoy it as much as my family does.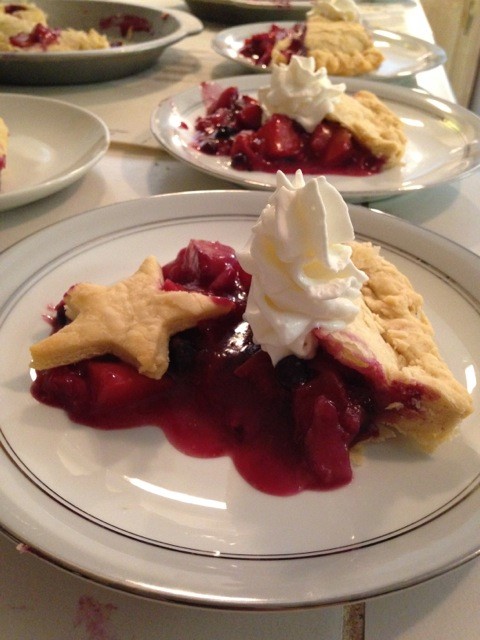 Maria Pardo
There are currently no comments for this article.