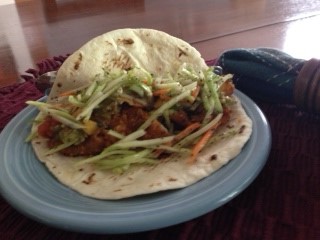 Fish Tacos
Mar 30, 2015 / Comments (1) / Written by Barb Wylie
I love fish tacos, so in this recipe, I use prepared ingredients for a quick and easy meal.
Ingredients:
Tortilla-crusted tilapia (one piece of fish per taco)
Avocado
Broccoli slaw
Extra-virgin olive oil
Red wine vinegar
Salt and pepper
Black or pinto beans
Small flour or corn tortillas
Peach mango salsa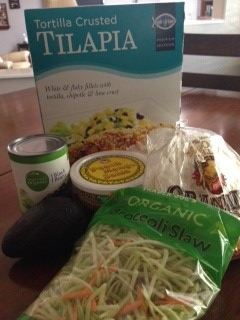 Instructions:
Prepare tilapia according to package directions.
Cut up avocado.
Mix broccoli slaw with oil, vinegar, salt, and pepper according to taste.
Warm beans.
Warm tortillas.
When tilapia is cooked, slice into bite-size chunks.
Arrange ingredients on flour or corn tortilla, top with peach mango salsa, add a side of fruit, and enjoy!

Tips/Extra Notes:

If you prefer not to eat a tortilla, put an unsliced piece of Tilapia on a plate and top with the rest of the ingredients. You won't even miss the tortilla!
You can make this as simple or involved as you like. If you prefer to make your own salsa, beans, and fish, go for it!
Barb Wylie
Yummy Barb! We need to make these! :)
Posted May 01, 2015 04:03:23 PM by Z