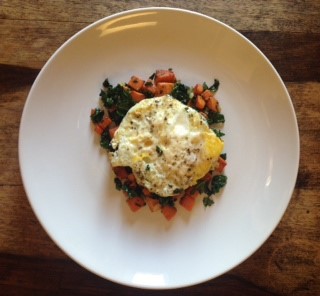 Kale Sweet Potato Breakfast Hash
Nov 18, 2014 / Comments (2) / Written by Paula Riley
Breakfast is the most important meal of the day, but we have such a short amount of time to prepare and eat in the morning that sometimes it gets boring. This breakfast hash I created is super easy to make and so healthy. Plus, it only takes about five minutes to make. I hope you will give it a try—I know you will enjoy it as much as I do!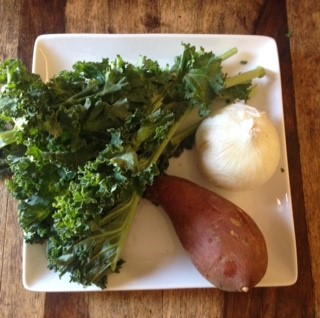 Ingredients:
1 c. fresh organic kale
½ sweet potato
2 Tbsp. onion
1-2 Tbsp. olive oil
Salt and pepper to taste
Instructions:
1) Peel and dice half of a sweet potato and place it in a sauté pan with 1-2 tablespoons of olive oil on medium heat; add salt and pepper to taste.
2) Heat until sweet potatoes are almost cooked through.
3) Add two tablespoons of chopped onion; cook until onions are almost translucent.
4) Add one cup fresh organic kale, and heat the mixture about one more minute.
5) Plate your hash, and add one fried egg on top.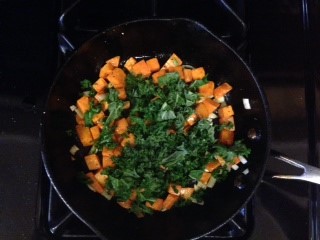 Enjoy!
Tips/Extra Notes:
This hash is simple to make, so if you wish to add other ingredients, such as jalapenos for spice, or bacon or ham for protein, feel free to play with this recipe and make it your own. If you prefer another green to kale, try it. I like recipes that are simple and versatile. Always remember to have fun with food!
This recipe feeds one person, but you can easily make it one that feeds many more people!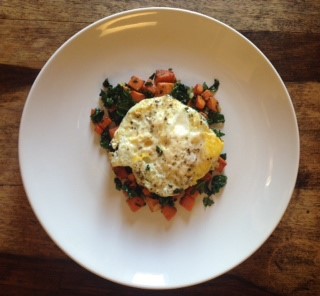 Paula Riley
Yummy! I remembering eating this with you at Flying Star. Great recreate!
Posted Feb 04, 2015 11:05:36 AM by Lenya
Paula! This has become one of my favs! Thank you for sharing beautiful! xoxo
Posted Dec 08, 2014 10:01:00 AM by Z