Baked Ziti
Oct 21, 2014 / Comments (0) / Written by Misty Foster
I got this recipe from a sweet woman named Margo Bowman who served in the women's ministry. She passed this recipe along years ago and it is a family favorite—everyone loves it! I often use this recipe when I sign up to provide a meal to someone for illness, surgeries, or new babies. It's simple but is such comfort food!
Ingredients:
1 16 oz package of ziti
4 c sauce (you can use homemade or Prego
1 lb ground beef
1 15 oz container Ricotta cheese
½ c grated parmesan
¼ c parsley (I use dried)
1 egg, slightly beaten
¾ tsp salt
¼ tsp pepper
1 8 oz package shredded mozzarella
Garlic powder
Onion powder
Dried basil (McCormick's)
Italian seasoning (McCormick's)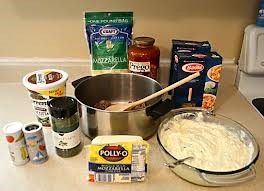 Instructions:
1. Preheat oven to 350°
2. Warm spaghetti sauce
3. Cook ziti per package directions; drain and set aside
4. Cook ground beef and remove from stove; allow to cool five minutes
5. To ground beef, stir in Ricotta, parmesan, parsley, egg, salt, pepper, and half of the spaghetti sauce
6. To this mixture add three to four shakes of onion and garlic powders and basil and Italian seasonings; toss gently until mixed
7. Spoon some sauce to coat bottom of 13x9 baking dish; spoon all of mixture into pan and pour remaining sauce over top.
8. Sprinkle mozzarella over top
9. Bake for twenty minutes or until hot and bubbly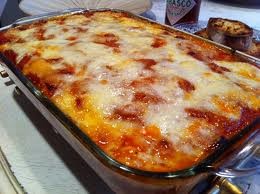 Tips/Extra notes:
I usually add three to four Italian sausage links (I cook it in the same pan with the ground beef).
This will make ten medium size servings or eight larger servings.
I will usually substitute skim-milk Ricotta.
This can be made in advance and refrigerated until ready to bake and serve.
This dish is so simple yet hearty. If I am making it to drop to friends, I assemble it ahead of time and refrigerate it until right before I drop it off or depending on when they will eat it, I drop it off with baking instructions. Depending on how much time I have, I will use homemade sauce that Margo also taught me how to make or buy store bought. It also freezes beautifully and is a great dish for any week night meal!
Misty Foster
There are currently no comments for this article.