Upcoming she Ministries Events
Tuesday Dec 06, 2016 8:00 AM - Sunday Dec 31, 2017 8:00 AM / The Hub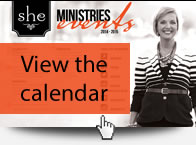 she Ministries hosts various events throughout the year, and we would love for you to be a part of them. To help you plan your calendar and budget, here's a sneak peek at what's coming this year. Save the date for these events, and be sure to tell your friends and family about them.

Lenya travels to share with women's ministries across the nation; you will see these events highlighted on the calendar. If you are in the area of one of her speaking engagements, stop by—she would love to see you!

As we launch each event, you will find information and registration at sheabq.org. On our website, you will also find encouraging articles from our she Ministries leadership team, do-it-yourself demos to help you get crafty, and recipes to make for your family. You can also check out photo archives of our past events or find teaching archives of all of our Bible studies.

It's going to be a great year of life-changing events!