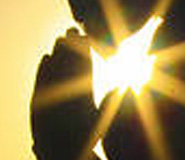 Is God's Hand Slipping?
Nov 12, 2012 / Comments (0) / Written by Shaena Crespo
Is God's hand slipping?
When things don't go your way, does it seem like God is a little less sovereign?
Come on, we've all rejoiced when we snagged the closest parking spot or received a promotion at work. But I rarely sing praises when forced to park two blocks away, or am overlooked for a well-deserved promotion.
No. In those moments it usually seems like God's hand is slipping.
Is it?
This month our country re-elected its 44th president. In the days that followed, voters either rejoiced or lamented. Believers on the lamenting side flooded social media with doomsday predictions that left me thinking, This seems out of control, did God overlook this election?
Did He? Is God's hand slipping?
Fortunately, Gods character never changes! He has been sovereign and all-powerful since the beginning of time, and He remains all-powerful today!
"I the Lord do not Change!" (Mal. 3:6, NIV).
The Bible depicts God as the only absolute King of the universe, Ruler over all and in all! (See 1 Chron. 29:11-12, 2 Chron. 20:6, and Ps. 22:28.)
God is not only sovereign in an abstract way (meaning He can work all things according to His will, but chooses not to), He is actually actively bringing His will to pass on earth (See Deut. 32:39, Isa. 2:6-8, Job 9:12 and 12:6-10, and Ps. 33:11 and 115:3.)
So, while it is reasonable to be discouraged when things don't go our way, it is ridiculous to think it's possible for things not to go God's way!
Believer, take heart! God's hand is not slipping, but is steadily at work, working all things according to His good will and purpose!
Have you been struggling to trust in God's sovereignty when things don't go as planned? Pray this prayer:
Lord, thank You for Your sovereignty in all things. Help me to trust and to rest in You. Forgive me for doubting and help me in my unbelief. Sovereign Lord, in all things, not my will but Yours be done.
Shaena Crespo
There are currently no comments for this article.