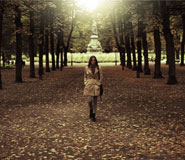 For the Love of Fall
Oct 30, 2012 / Comments (0) / Written by Jaime Carrillo
Delicious autumn!
My very soul is wedded to it,

and if I were a bird I would fly about the earth seeking the successive autumns.
George Eliot
Fall and me, we got a "thang" going on.
My heart starts to pitter-patter the very moment I see that first hot air balloon of the season. Leaves begin to blush like a schoolgirl with a crush, dancing on their branches until that moment of release...each one falling with reckless abandon...just waiting for someone to rake it into a massive heap and fall backwards, with arms wide open, into its glorious pile of crunchy delight.
I am overcome by sudden urges to bake all things apple and cinnamon, dripping with caramel and nuts. Visions of fluffy marshmallows melting in huge oversized mugs dance in my head. I daydream of long hot baths, colossal bowls of soup, and snuggles with fuzzy blankets, fiction in hand. Boots. Hats. Scarves. Layer after layer of bundling bliss...and don't even get me started on the euphoric aroma of roasting green chile filling the airI could write a whole article on the chile alone.
But this seasonal love affair, even in all its splendor, ridiculously pales in comparison to the sacred romance that is accessible to each and every one of us. For there is a personal, wildly captivating Creator who has been pursuing us since the day we were born. Whispering to us with each sunrise, calling to us with each sunset. Each glisten of dew, each wild flower, drawing us into the arms of the Lover of our souls. "I have loved you, my people, with an everlasting love. With unfailing love I have drawn you to myself." (Jer. 31:3, NLT)
Of all the metaphors given to us in the Bible regarding our relationship with God, there is none more enthralling than that of the Lover/Beloved (see Song 1:7, 2:16, 6:3, and 7:10). The Bridegroom and Bride (see Rev. 19:7-9). I get butterflies when I think more intently on the lavishness of His love(see 1 John 3:1). Why would we ever want to withhold our love from Him?
As we sang "Come Thou Fount," the famous old hymn written by Robert Robinson, during a few of the worship sessions from the Live Awesomely Women's Bible Study, these lyrics stood out: "Prone to wander, Lord, I feel it, prone to leave the God I love," I was reminded that sometimes we do allow ourselves to become distracted by the cares of this world to the extent of putting time with Christ on the back burner. If you've found yourself neglecting intimate time with Jesus, then it's time for a "date night" with Him. If you've become aware that you've been intermittent with your affections, return to your first love (see Rev. 2:4). In doing so, you are sure to discover on a much more profound level the intoxicating love story that is unfolding before your very eyes. It's bound to take your breath away, and make you thirst for more.
"As the deer pants for the water brooks, So pants my soul for You, O God. My soul thirsts for God, for the living God" (Ps.42:1-2, NKJV)
Jaime Carrillo
There are currently no comments for this article.