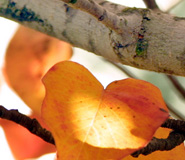 Change Anyone?
Oct 03, 2012 / Comments (0) / Written by Zanetta Romero
Fall is here. The weather is cooling down and the smell of the air is changing -- there is a freshness and crispness about it. The leaves are changing color and some are already falling. Bible study is starting up again, favorite TV programs are coming back on, pumpkin-scented candles, and yummy fall desserts are on the rise. And, of course, fall would not be the same without our annual Albuquerque International Balloon Fiesta!
Thinking about the details that I love about the changing season, I asked myself, Do I love change just as much when it pertains to my life? No, rather I sometimes fear it and don't understand it.
Recently, I found myself updating a couple of girlfriends about what is going on in my life and again noticed the word change. So, I pondered some of the changes: My daughter started college this year and is living in the dorm. Financial obligations have increased tremendously, so much so that I moved out of my house back in with my mom. Yes, I said back in with my mom! This has led to more change: a new environment, a new bed (mine would not fit into the room where I am staying), a new place to have quiet time with the Lord (which I have not quite yet figured out), and new surroundings outside as I search for new places to run. As if all this was not enough, my employer selected me for a telework pilot program for employees to work at home. So, now I'm at home (well, my mom's) most of the time, instead of the office building that I'm used to. Change! No more, my heart cries. Lord, help!
That is me feeling sorry for myself, as I tend to do at times -- until the Lord reminds me, It's not about you, it's about Jesus! I have to admit, it sometimes takes me a while to get to this level of understanding. Praise God that He doesn't let go of us! He brings us to a place where we gain new perspective.
The Lord revealed something profound to me just the other day. I heard that still, small voice: Don't focus on the changes, but rather focus on the One who never changes. Yes, Lord! Okay! So I run to my Bible...
"For I am the Lord, I do not change" (Mal. 3:6).
"Jesus Christ is the same yesterday, today, and forever" (Heb. 13:8).
If the Lord Himself does not change, then that means He is still kind, merciful, and long-suffering. His love is still unfailing. He is still El Roi, the God who sees. He is still the One who always does what is right. He is still the One who is in complete control -- the One who holds the universe in His hand -- yet, He thinks upon the details of my life. He is still the One who works all things together for the good of those who love Him and are the called according to His purpose (see Rom. 8:28). He is still the ultimate Promise Keeper, the Faithful One, who has never yet let down one of His own.
As I meditate now on these truths in His Word and on His character, my Father continues to change my perspective and give me new insight. Just last night, He reminded me of some women in the Bible who experienced change and hardship: Sarah, Hannah, Esther, Ruth, Naomi, Rachel, Rebekah, and Rahab, to name a few. As I study these women and read about their lives, I think about how they were not able to read their story from beginning to end, but we are! God has left us a precious gift. He has left us His Word that we can glean from and seek encouragement from.
The season of change in our life can be a difficult and scary one, but I am learning that when we seek God and His understanding, the changes we experience are small compared to our great God. They can actually be exciting when we trust Him and His promises. I wonder what's around the bend of this road for each of us. I pray we would wait on Him and find out! Self included.
Let's embrace the change, just as we embrace the fall season. Enjoy it. God has something big and exciting planned specifically for each of us!
Jeremiah 29:11 says, "For I know the thoughts that I think toward you, says the Lord, thoughts of peace and not of evil, to give you a future and a hope."
Through the changes let's come to know the One who is constant and never changes in a deeper, more intimate level. Casting our cares upon this One, Jesus, who cares deeply for us (see 1 Peter 5:7).
Trust Him, for He is altogether faithful! Amen.
Zanetta Romero
There are currently no comments for this article.