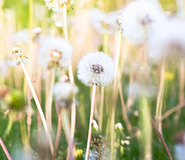 She Presses On: What it Means to Me
Aug 24, 2012 / Comments (0) / Written by Megan England
I have been in a bit of a desert place, you know... the place where you feel like you are going through the motions. Life, like it is for so many, is busy−being a mom and wife, and working outside the home and well inside of our home. Recently, it occurred to me that I wasn't HEARING the Lord. Daily, I spent time with Him but it was often rushed and squeezed in before the rush of the day began. I knew this isn't what He desired and it was certainly affecting my intimacy with the Lord and closeness with my Abba Father who I love and long for. So, I like many of you longed for the refreshment that the She Presses On conference would bring. I longed for a turning point−I desired to be still and "Press" into my Father.
On the Friday morning of the She Presses On Conference when I woke, I could not physically hear out of my left ear and I was greatly concerned. This was not a sinus pressure or ear-needing-to-pop kind of not hearing. I physically could not hear out of my left ear. As the day went on I found that in general I was hearing well enough because I was hearing out of my right ear. As we busied about preparing for the conference I periodically reached up and plugged my right ear to see if I could hear out of my left ear ... nothing. I am not sure if it really hit me until I sat down with my dear friend at 6:30pm. She was sitting on my left and from my peripheral vision I could see she was talking into my left ear but I could not hear a word she was saying.
Throughout the weekend, even as the beginning of the next week progressed, I still had no hearing in my ear. Wednesday morning my husband and I decided this might be serious and so off to urgent care I went. After an ear lavage (A power wash to remove the earwax from your ear) and an exam by the doctor I still had no hearing. He simply had no explanation. He referred me to an ENT (Ear, Nose and Throat specialist). With my referral in-hand, I contacted the ENT to schedule an appointment. It was determined that because it was a sudden hearing loss I needed to be seen immediately. The Audiologist performed a hearing test which revealed I had significant hearing loss to the inner ear. The ENT evaluated the hearing test and discussed the potential possibilities with me. The doctor proceeded to say that this is fairly common and doctors rarely can determine an explanation for this type of hearing loss. Sometimes it can be the result of a tumor on the hearing nerves and often there is no explanation. He went on to say that some people get their hearing back while others do not ever hear again. A hearing aid would not correct this particular type of hearing loss and if this malady was permanent, there really was not much to be done.
I left, needless to say, in shock. Not yet 40 years old and I may not hear out of my left ear. As quickly as the fears and even some self-pity began to set-in, something greater prevailed. As clear as if He were speaking right to me, the Lord reminded me, you can hear ME. He also reminded me that this is not my home and this body of mine is temporal. 2 Corinthians 5:1-2 says, "For we know that if our earthly house, this tent, is destroyed, we have a building from God, a house not made with hands, eternal in the heavens. For in this we groan, earnestly desiring to be clothed with our habitation which is from heaven ..."
In the days following the conference, Anne Graham Lotz' teaching and specifically Revelation 2 reminded me that like the church in Ephesus I had forgotten my first love. My works, my labor, my perseverance, and my patience are actions−but I had forgotten my first love. "Nevertheless I have this against you, that you have left your first love. Remember therefore from where you have fallen; repent and do the first works, or else I will come to you quickly and remove your lampstand from its place−unless you repent .... He who has an ear, let him hear what the Spirit says to the churches" (Revelation 2:4-5, 7).
Megan England
There are currently no comments for this article.