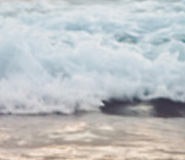 Let It Go
Aug 24, 2012 / Comments (1) / Written by Jaime Carrillo
Is your paycheck short...again? Is there too much month at the end of your money? Are the demands grossly outweighing your energy levels? Has the deal fallen apart? Has the diagnosis come in? Have the children gone rogue? Has the pink slip arrived? Do you feel like you're constantly living in "the 11th hour?" You are not alone.
We've coined an expression around our house, one that we've scrupulously named "white knuckle syndrome." This phrase describes the overwhelming desire to clutch on to something in our lives ever so tightly, desperately trying to control the outcome, particularly in the midst of an uncontrollable circumstance. Symptoms include: anxiety, fear, panic, agitation, and the inability to stop thinking about the situation...to name a few. Sound familiar? Perhaps you've struggled with a case of white knuckle syndrome at one time or another too. When it comes to navigating through day to day life, one of the secrets I've come to learn about how to "press on" has a lot to do with letting go. But how do we let go? What does it mean to truly surrender?
A dear friend shared a nugget of wisdom with me years ago that has impacted me greatly in ways that are too numerous to count. I've written about the subject many times, yet never tire of the reminder. She said, "The definition of true surrender is giving up attachment to results." Think on that for a minute. Giving up attachment to results. Powerful, isn't it? Giving up attachment to results means that no matter how it plays out, good, bad or indifferent, that you know that you KNOW that you are going to be okay, and even if everything falls apart, being confident that HE will do something NEW, and that He will use every last detail to bring us into HIS sweet presence, and do something remarkable within that we never could have anticipated. It's being certain that the same God who spoke the world into existence, and breathed life into you (Genesis 1), who feeds the sparrows and clothes the lilies of the field (Matthew 6:26-34), will NEVER leave you or forsake you (Hebrews 13:5), and has plans to give you a hope and a future (Jeremiah 29:11). Do you believe this? Then you must not forget. And if you start to forget...REMEMBER! Stand on what you know to be truth according to His Word.
We are exhorted to "be anxious for nothing" (Philippians 4:6-7) and to "cast all our cares upon Him" (1 Peter 5:7). By letting go, we allow ourselves entrance into His rest and receive the peace and refreshment our souls so desperately need to press on and run the race set before us.
"Come to me, all you who are weary and burdened, and I will give you rest. Take my yoke upon you and learn from me, for I am gentle and humble in heart, and you will find rest for your souls. For my yoke is easy and my burden is light" (Matthew 11: 28-30).
Jaime Carrillo
This was timely, my friend. Your email notification has been in my box just waiting for the right time. Tonight was the time when I needed it the most. Thank you!
Posted Nov 18, 2012 05:30:18 PM by Candace