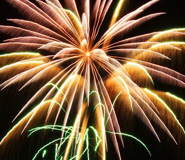 Freedom
Jul 26, 2012 / Comments (2) / Written by Jamie Carrillo
This month we celebrate "freedom" as a nation. From coast to coast and sea to shining sea, outdoor grills are being fired up. Patriotic colored desserts are being preparedwith extra whipped cream. Lawn games are the source of friendly competition, and children are squealing in delight with sparklers in hand as fireworks dance across the sky to commemorate our right to "Life, Liberty, and The Pursuit of Happiness" through the adoption of the Declaration of Independence.
Freedom. The New Oxford American Dictionary defines it as "the power or right to act, speak, or think as one wants without hindrance or restraint." In the 1995 movie Braveheart, Mel Gibson portrays William Wallace, the brave kilted Scotsman who declared, "It's all for nothing if you don't have freedom." And in her signature gritty tone, folk rock & blues musician Janis Joplin sang the words "Freedom is just another word for nothing left to lose."
But it was the apostle Paul who said, "It is for freedom that Christ has set us free. Stand firm, then, and do not let yourselves be burdened again by a yoke of slavery"(Galatians 5:1 NIV). What a thought provoking statement, and even more so, a profound instruction. When I think more intently on what freedom is, and what it implies, I find myself pondering all of the things we allow to remain in our lives that keep us in bondage, weigh us down, or hold us back. Those "things" might include an attitude of the heart, a negative perspective, a damaging relationship, an addiction or unhealthy attachment. Quite often, our "yoke of slavery" is self-inflicted, isn't it? Is there something hindering you today? Something that's preventing you from enjoying the freedom that's been given to us through the blood of Christ? Let us throw off everything that hinders, and keep running the race ... passionately!
"Therefore we also, since we are surrounded by so great a cloud of witnesses, let us lay aside every weight, and the sin which so easily ensnares us, and let us run with endurance the race that is set before us" (Hebrews 12:1 NKJV).
Jamie Carrillo
Of course you'll smile at this...just as I clicked over here to read your article, the closing ceremonies of the Olympics are in the background and guess what is being performed? "Freedom" by George Michael. Upon the world's stage, performers sing of freedom and striving and endurance while a cloud of witnesses watch. But where is the prize? God may we never lose endurance in running the race toward the upward call in Christ Jesus! Thanks for another thought provoking article!
Posted Aug 12, 2012 07:37:39 PM by Lorraine
Thank you Jaime. You are right, Jesus set me free I'm not a slave any more. I wont allow anything to inprison me. I'm His.
Posted Jul 26, 2012 04:42:01 PM by Marilu Trujillo