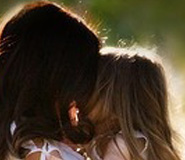 sHe Meant It
Jul 06, 2012 / Comments (2) / Written by Georgia Hook
I was 24 years old, seven months pregnant with my first baby, and about to move to another state. I sat with my grandma in her cozy, post-war, frame house in Indiana. She had lived in this house since my mom was 10 years old, and it brought me comfort just to be there. I had grown up only a few miles away from my grandma, and she had always been there for me. We cooked together, did sewing projects, picked strawberries and persimmons in the back yard, had picnics.... The memories were endless, really. Now I was preparing to move thousands of miles away, and entering a completely new phase of life. My husband was in the Navy and being transferred to Hawaii! I was so excited to be moving to a tropical paradise AND to finally welcome a child into the world! My grandma had previously sat beside me in this same house, praying for me to conceive this child. I had cried to her and told her my concerns about infertility. I remember what she did. She pat me on the knee and said, "Honey, we just trust God." No big speech. Nothing that seemed truly profound or prophetic to me−just a simple statement. The reason I remember it so well is because of the way she said it. She wasn't trite about it. She meant it. And somehow, this inspired me to mean it too. Grandmothers have a way with us. They can say things to us that we would never accept from our mothers!
Now, as I sat again in my grandma's home, she was about to say something else I would remember for a long time. She quietly looked into my eyes and said, "I wish I could have that baby for you." I didn't think much about her statement at the time. Honestly, I don't even remember what my response was. But I've obviously held it in my heart a long time, because that was over 24 years ago! It has deeper meaning for me now. I think of my own daughter, 16 years old, and on the threshold of her life. I think of all the treasures I pray her life will hold, all the joys I hope for her. And then I think of the inevitable pain and trials she will face. "In this world, you will have trouble." Jesus tells us this straight up. Not "You might have some trouble,"... not "If you have some trouble," but, "You WILL have trouble." My grandma knew what it took to give birth to a baby. She didn't want me to have to bear that "trouble." And it was trouble! My labor was 22 hours long and ended with an emergency caesarean. During that labor, I remember thinking, "I don't know how any family in the world has more than one child.... Who would willingly do this twice?!" As I consider all of this, I am touched by the love my Grandma had for me. I understand now that she truly would have had that baby for me if she could have. My heart is undone by the love I have for my daughter. I wish I could spare her from the pain and heartaches of life. However, as much as I love her, I am helpless to do this, just as my grandma was before me. This is the amazing thing about Jesus ... not only did He love us so much that He desired to spare us from what we deserve, He was powerful enough to do it! He actually hung on the cross for us−bearing all of our shame and punishment. He lets us experience deep love for one another, so that we can understand in some small way the even deeper love He has for us.
Because of His love for us, my grandma is in Heaven with Him now, and one day my daughter and I will join them! We will be together in a place much better than my grandma's cozy home where we were surrounded by all the trouble of this world! "In this world you will have trouble. But take heart! I have overcome the world" (John16:33b). Jesus wasn't being trite when He said this. He meant it!
Georgia Hook
I love you my friend...this made me weep, so straight forward & down to earth.
Posted Aug 14, 2012 03:56:47 PM by Gerri Garcia
Love this Georgia!!!!
Posted Jul 31, 2012 01:02:49 PM by Jenn Sena