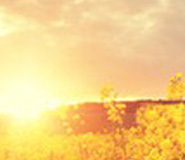 The Heat is On
Jun 12, 2012 / Comments (1) / Written by Jaime Carrillo
The temperatures are rising. Lemonade stands are popping up like wild fire in neighborhoods near and far. Jingles from ice cream trucks can be heard from blocks away summoning sweaty children like The Pied Piper. Orange barrels are taking over the landscape. Yep. It's official. Summer is upon us.

As I was sitting in traffic, glistening (That's right, glistening. Girls don't sweat, we glisten), I took notice of the commuters around me. To my right, a sullen driver in an old pick up truck is fanning herself as she tilts her head towards the rolled down window. Either the air conditioner is broken, or she's trying to ration gas. To my left, a mommy is multi-tasking in her SUV. Talking on blue tooth and searching for something in her purse with one hand, while leaning backwards, offering a small electronic toy with the other hand in hopes of appeasing a disgruntled toddler. Behind me, an irritable driver in a new Ford Mustang is inching closer and closer and closer to my back bumper, perhaps thinking this might make the red light turn green faster.

There's no doubt, when the heat is on, it can provoke all sorts of responses from the masses. Which got me thinking...what happens when the heat is on in our own personal lives? When we're in the fiery furnace? How do we respond? Cause let's face it, it's hot in there. And suddenly, an old praise song popped into my head that I haven't heard in a while: Refiner's Fire. I found myself humming dubiously. My eyebrows began to furrow as my thoughts started rummaging through "the vault" in the back of my brain, clearing the cobwebs, trying to remember the lyrics...hmm hmm hmm purify my heart...hmm hmm let me be as gold...hmm hmm hmm...ah yes, the chorus:

"Refiner's fire


My heart's one desire

Is to be holy

Set apart for you, Lord

I choose to be, holy

Set apart for you my Master

Ready to do your will" (Excerpt of "Refiner's Fire" by Brian Doerksen, 1990).

Is that us? Are we willing to allow the Refiner's Fire to cleanse our hearts? Melt away the impurities? Trusting...believing...knowing that it is HIS desire to bring us forth pure as gold, a vessel ready to be used. I am reminded that even when we are deep in the furnace, we are not alone. Just as He was with Shadrach, Meshach and Abednego (Daniel 3:16-30), He is with us, and we can be confident that no matter what circumstances we are facing, "that all things work together for good to those who love God, to those who are the called according to His purpose"(Romans 8:28). If you are facing a difficult trial today, whether it's financial, relational, health related, or something else, do not give up! As my mother-in-law would say, "Make a knot and hang on!" Let there be fierce determination in your grip, and a song of praise on your lips! He is working behind the scenes in ways we don't even know about on our behalf, and when we have come through, the result will be as refreshing as a cold glass of lemonade on the hottest of summer days.
Jaime Carrillo
Such a vivid description. I can picture your furrowed brow, squinting from the sun and from the inventory of the vault in the back of your mind….your glistening cheeks as you hum your praises and God steers you in His direction. I can almost feel the heat of the wildfires and picture the orange painted landscape from the wildfires! What a great correlation between the heat of the fires….and the furnace our hearts face in the process of refinement. How you relate the end result to the quench of that "glass of lemonade on a sweltering hot day"…relief! A refreshing afterglow after melting away the impurities! The promise that He knows the plans He has for us….the burden lifted as He carries us through the fire and leads us to the true refreshment of living water! So rich! Thanks for the word pictures and the encouragement to grab hold of him like your mother-in law suggested….hanging on tight!
Posted Jun 12, 2012 10:24:25 PM by Lorraine