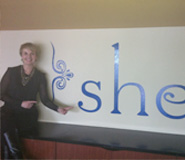 she Quest Photo Contest
Mar 31, 2011 / Comments (0) / Written by Lenya Heitzig
The votes have been tallied and we have announced the contest winner!

Thank you to all who took the challenge to seek out and capture the word she in the most quirky, off beat and out-of-the way places you could find! Please take a few minutes to view all of the photo entries on our she smiles page. The she Quest Photo Contest winner was announced at the April 12th Bible Study.


Lenya Heitzig
There are currently no comments for this article.