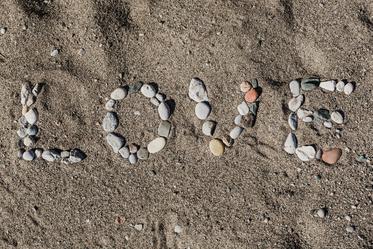 You Are Love(d)
Feb 26, 2018 / Comments (0) / Written by Natalie Wylie
Have you ever tried to make a basic white cake? You get all the ingredients, follow the recipe's instructions, and end up with a delicious confection. Now, have you ever made a cake, but omitted the sugar? You may end up with something that looks very similar to a white cake, but definitely does not resemble the sugary-sweet flavor you were craving.
Too often I see a similar issue happening within the church. We try to live the "successful Christian life" without understanding the main ingredient—love. I have witnessed this phenomenon, I've been a victim of it, and I have also been one to perpetrate this unbiblical concept. We see hurting people. We listen to their stories. We see the pain in their eyes and hear the tremble in their voices. We listen to how they're confused because they feel like the apostle Paul when he said, "For I do not understand my own actions. For I do not do what I want, but I do the very thing I hate" (Rom. 7:15, ESV).
We hear them. We feel for them. And then we give them a list of things to do to fix it.
We tell them to read their Bible, pray, and be in community. We tell them to do these things so they can learn more about the character of God, learn to hear His voice, and be in the midst of constant encouragement and accountability.
Let me clarify. I am not against reading your Bible, praying, or being in community. Those are all spiritual practices that can deepen your life in Jesus. The problem is, when we send hurting people off with a checklist, they may do it and they may feel better for a while. Maybe they feel more settled in their self-worth or identity.
But they will think they had something to do with that. They will think they earned that feeling, but the feeling won't last forever. So, when their feelings tank and they get discouraged, they feel like they have failed and end up believing they are a failure.
So, what's the point of spiritual disciplines if they aren't helpful in the long run? Those spiritual disciplines help us understand our identity. They do not help us earn our identity. When we do what we know is "right" in order to feel loved, we end up disappointed. We cannot earn that love. In fact, we don't have to—it's a free gift. When we receive it, we get to live out what God speaks over His redeemed children: "On that day you will realize that I am in my Father, and you are in me, and I am in you" (John 14:20, NIV).
God has chosen to unite His Spirit with ours. He simply desires that we know Him and let His Spirit live through our bodies and our unique personalities.
"Anyone who does not love does not know God, because God is love" (1 John 4:8, ESV). Okay, this is where it gets really exciting. God is in us, and we are in God. And God is love. So this means that when we are living by the Spirit, we are love! We start with love. Knowing the truths of Jesus and what the Father has spoken over us are indeed paramount to the truly successful Christian life. Then we live out of a place of security and settled identity as we practice those spiritual disciplines.
Keep these things in mind as you move forward in the victorious life:
First things first, if you don't know Jesus as life and you long for that eternal identity of love, you must confess with your mouth that Jesus is Lord and believe in your heart that God raised him from the dead, and you will be saved (see Romans 10:19).
Once you have made that decision that shifts all of eternity, spend time doing the following:

Ask the Father to reveal to you what He loves about you.
Spend time in His word in order to understand your identity.
Seek out people who will speak truth over you, not those who will only give you a list of things to do.
Ultimately, follow the advice of James 4:8: "Draw near to God and He will draw near to you."
Live loved, dear ones.
Natalie Wylie
There are currently no comments for this article.