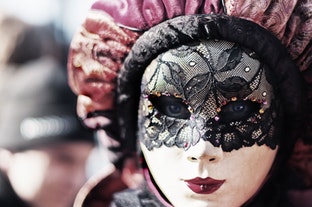 Take off Your Mask: Life with Jesus is Hard
Sep 27, 2017 / Comments (0) / Written by Natalie Wylie
The life of growth within the Christian faith is hard. Many of us don't understand why certain aspects of it are so difficult and thus end up questioning whether or not we are doing the right thing. After all, doing what's right should make life peachy keen, shouldn't it? Not quite. Let's delve into what the process of Christian growth and discipleship looks like and how we can move past the difficulties we will undoubtedly experience. It's a bumpy road, so buckle up!
Devotion to Jesus is difficult. "You can enter God's Kingdom only through the narrow gate. The highway to hell is broad, and its gate is wide for many who choose that way. But the gateway to life is very narrow and the road is difficult, and only a few will ever find it" (Matt. 7:13-14, NLT; emphasis added). Scripture tells us that when we choose to follow hard after Jesus, life will not be easy. When we do the will of the Father, the Enemy is threatened. Be aware: he will attack when we live righteously.
A life with Jesus is also dirty. Jesus does not ask us to do whatever is easiest. In fact, He often called people outside of their comfort zones. A fisherman? Leave everything you know and follow Me! You'll have nothing, but you'll end up with everything. Luke 9:23 says "If any man will come after me, let him deny himself, and take up his cross daily, and follow me" (KJV). One of the biggest ways Satan attacks God's children is by convincing them that they are fine where they are. Do you have a dream God has placed in your heart that you are afraid to go after? There may be a chance that the very thing you desire is the thing God has created you for, but that is the last thing that the Enemy wants you to know. Devotion takes getting down and dirty. Do the hard work: earnestly seek and obey the will of the Father.
We have acknowledged that life with Jesus is difficult and dirty, but how do we get through it victoriously? We must desire to follow only Jesus. We must have dedication to go through the narrow gate. Lastly, we must accept the duration of the process. Here are some practical guidelines for moving through this process.
Desire: By recognizing that life in line with Christ is hard, we can "rejoice in the Lord always" (Phil. 4:4). If the desire for growth and change is not within you, ask the Lord for it. Tell Him you are afraid, but step out in faith and ask Him to open your eyes to the beauty found through suffering.
Dedication: "And whatever you do, whether in word or deed, do it all in the name of the Lord Jesus, giving thanks to God the Father through him" (Col. 3:17, NIV). Here are a few things that will aid you in fulfilling this Scripture: become a student of the Word, of the Lord's character, and of godly people. Commit yourself to knowing God's promises and meditating on them—His Word is a priceless gift! Study who He is and study how His dedicated followers lived. Be persistent in expecting and looking for restoration and blessing in all things.
Duration- "Repent therefore, and turn again, that your sins may be blotted out." (Acts 3:19, WEB) Notice the word again. Understand and accept that the process of discipleship is just that—a process. It will not happen overnight. I am not a runner. In the same way that I cannot expect myself to be able to run a marathon tomorrow, you cannot expect yourself to be the perfect disciple tomorrow— even if the desire is within you! We all fall short of the glory of God (see Rom. 3:23). We all stumble. So when you do, repent and move on. It is a lifelong process, but it is worth it!
Many people within the church tend to put on a happy face and try to appear strong to those they encounter. Because everyone else knows what they are doing, right? We are all in the same boat. Take off your mask. Acknowledge that life following Jesus is not easy, but desire growth, be dedicated to the process, and know that the righteous life is spread over a long duration. It is worth it—and you are not alone!
Natalie Wylie
There are currently no comments for this article.