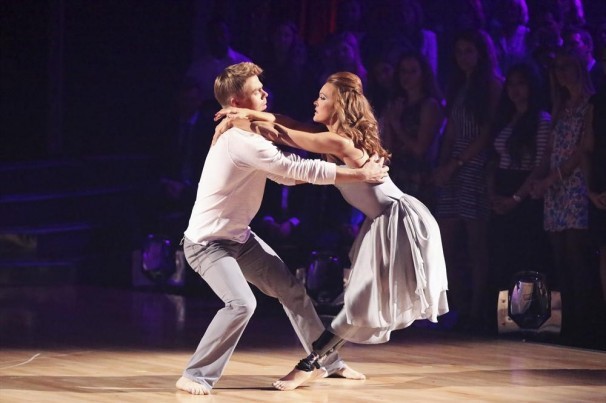 Light on Your Feet
Sep 30, 2016 / Comments (0) / Written by Zanetta Romero
If you're a Dancing with the Stars fan like I am, you may have heard the amazing testimony of one of the guest dancers, Amy Purdy. At the age of nineteen, Amy experienced twenty-four hours of flu-like symptoms. She was then rushed to the hospital in a state of septic shock and on the way experienced respiratory and multiple-organ failure. She was diagnosed with bacterial meningitis, in a coma for almost three weeks, and given less than a 2 percent chance of survival. Due to the lack of circulation she suffered, doctors had to amputate her legs from the knees down. Miraculously, she survived, and her other extremities regained circulation and escaped amputation.i
Amy put on one of the most powerful performances—one that brought me and the audience to tears. Before the dance, she briefly told her story and explained how her father gave her hope to persevere. She described how the performance was inspired by her father: when Amy had to learn to use prosthetic legs, it was her father who picked her up and danced with her.ii
Listening to this powerful story, watching this moving presentation, and seeing the love of her father as he looked on with tears, I could not help but think about the love that our heavenly Father has for us. He holds us in His arms and guides us on the dance floor. We may suffer many things in this life, but we can trust in the Lord and lean not on our own understanding, for He is holding us and directing our steps (see Prov. 3:5-6). We may not have prosthetics like Amy does, but sometimes we feel as though we are not able to walk—let alone dance.
So how do we trust in our Father when challenges come along?
Start by spending time in His Word. He wants to speak to us and encourage us (see 2 Tim. 3:16-17).
Gain a new perspective. Even the psalmist Asaph did not understand what was going on around him until he went into the sanctuary of God (see Ps. 73:16-17). It was then that his perspective aligned with the Lord's. "The word of God is living and powerful, and sharper than any two-edged sword, piercing even to the division of soul and spirit, and of joints and marrow, and is a discerner of the thoughts and intents of the heart" (Heb. 4:12).
Consider your Father's character, unconditional love, and faithfulness. Our trust will increase as we learn of His promises and come to understand that He works all things together for good to those who love Him (see Rom. 8:28). These are not just words in a book; they are words for everyday life, which He has given to us as a free gift. He knows the tribulations we suffer and how we need to hear straight from His heart to gain wisdom, comfort, and hope. Jesus said in John 16:33, "These things I have spoken to you, that in Me you may have peace. In the world you will have tribulation; but be of good cheer, I have overcome the world."
Amy is not only a beautiful dancer, but also one of the top snowboarders in the world. She is a licensed massage therapist, esthetician, makeup artist, and a motivational speaker who encourages people around the world as she shares her story. Perhaps the loving words of her father and the way he held her on the dance floor are what lifted her to heights she could not imagine. Perhaps your weaknesses and suffering in this life will lead you closer to your Father and cause you to trust Him like you never have before. Perhaps you, too, will become a beautiful dancer as you keep in step with Him and share the story He has given you with a world that needs a reason to hope. So be encouraged, pick up your Bibles, and let's dig deep into His Word together. Let's be light on our feet, allowing our Father to pick us up with ease and guide us along the dance floor of life.
Zanetta Romero
There are currently no comments for this article.