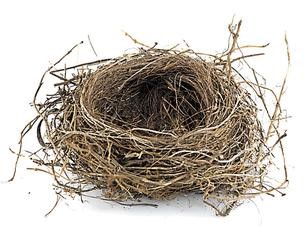 Empty Nesting: Blessing or a Curse?
May 17, 2016 / Comments (0) / Written by Zanetta Romero
Empty nest syndrome is a feeling of grief or loneliness that parents may feel when a child moves away from home for the first time. Some leave for college, some get married, and others just want to be out on their own a little sooner than expected. Though these things are common and it is certainly healthy for children to eventually leave the home, a parent or guardian may still struggle and not know what to do next. Empty nesters often face challenges such as establishing a new kind of relationship with the child, having to find new ways to occupy their time, rearranging space in the home that was previously occupied by the child, and the like.
Common symptoms of empty nest syndrome include depression, a sense of loss of purpose, feelings of rejection, and worry, stress, or anxiety over the child's welfare. Empty nesters often question whether or not they have sufficiently prepared their child to live independently. Some have feelings of guilt over lost opportunities to be more involved in their children's lives before they left home. The world will tell you to overcome these feelings by pursuing other relationships, to focus on yourself, to enjoy the kids now being gone, etc. Scripture encourages us to bring our cares, our worries, and our anxieties to the Lord, to remain thankful and prayerful, and He will give us His peace through the trying circumstances of life (see Philippians 4:6-7).
We are taught to "train up a child in the way he should go, and when he is old he will not depart from it" (Proverbs 22:6). Perhaps many of us did not do this perfectly, but we did the best we could. We loved our children, we taught them truth, we disciplined them, and we tried to live out a life of faith before them. But perhaps some of us did not. Maybe you didn't know Jesus when you were raising your kids, and now, looking back, you see only failure in your parenting.
Either way. How do we cope with empty nest syndrome? Let's find encouragement through the Scriptures. Though the nest is empty, it is vital that we remain full.
Faithful. "If we are faithless, He remains faithful" (2 Timothy 2:13). We need to stop beating ourselves up for what we didn't do and trust in the faithfulness of God.
Understand what the will of the Lord is. The will of the Lord is that we remain thankful in all circumstances (see 1 Thessalonians 5:18), that our children walk in the truth (see 3 John 1:4), and that we be filled with the Spirit (see Ephesians 5:17-18). Understanding His will and living it out will enable us to persevere.
Love. Receive God's love. As we learn to receive His love and understand that He gave His Son for us because He loved us (see John 3:16), we can learn to love our children all the more. Even when they are out of the house, we can still love them unconditionally and pour into their lives. Love is the greatest gift we can give (see 1 Corinthians 13:13). Study and learn how to practically love them in this new season.
Lean on Jesus. Rest and lean on Jesus' bosom like the apostle John did (see John 13:23). Jesus is gentle and lowly in heart, and He promised we will find rest for our souls (see Matthew 11:29).
As we practice these things and set our hearts on Jesus, we can learn to view the empty nest as a blessing and opportunity rather than a curse. We can do it, sisters. In Christ, it's never too late.
[1] "Empty Nest Syndrome," May 17, 2015, https://en.wikipedia.org/wiki/Empty_nest_syndrome 2014, accessed August 23, 2015.
Zanetta Romero
There are currently no comments for this article.