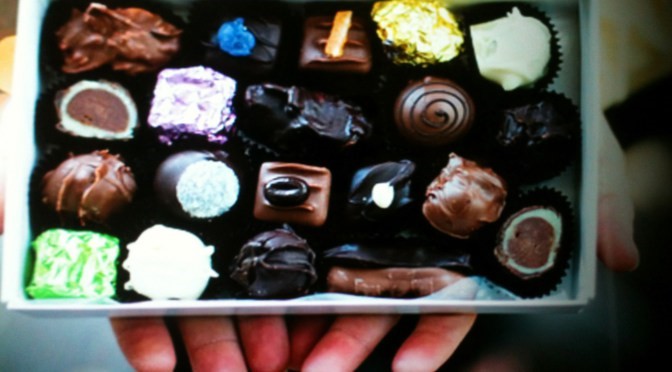 Life is Like a Box of Chocolates
Dec 10, 2015 / Comments (0) / Written by
In 1994, Paramount Pictures adapted the novel Forrest Gump into an award-winning film. The movie was a box-office hit and won several awards, including six Academy Awards. It became the fourth-highest grossing film at the time of its release, earning over $677 million in theaters worldwide.i
The film starred Tom Hanks as Forrest Gump, who was naïve and slow-witted yet full of wisdom and life lessons he learned from his mother. Most of the story unfolded as Forrest recounted his past to various strangers sitting next to him at a bus stop. As he spoke to one woman, he offered her a chocolate and said, "My mama always said life was like a box of chocolates. You never know what you're gonna get"—one of the film's most popular lines. Even Forrest understood one of life's greatest truths: you never know what you're going to get. Perhaps that's why Jesus said not to worry about tomorrow, for sufficient for the day is its own trouble (see Matt. 6:34). We'd be wise to listen to this command and enjoy each chocolate life has to offer.
We often find that the most popular "chocolates" in our lives come as mountaintops. Can you relate? Often we have no problem enjoying the delectable taste of the mountaintop. It seems like we know exactly what to do there. We smile, and our hearts are merry and full of joy. We might even feel invincible—as though we are on top of the world. The problem with this, however, is that we tend to focus too much on our current mountaintop experience and forget the One who brought us there. This explains why the next "chocolate"—the valley—is necessary.
In the valley, we learn to trust and depend on the Lord our God, the One who takes us up to those mountaintops in the first place. We tend to think of the valley as a bad place. Merriam-Webster OnLine defines a valley as "an area of low land between hills or mountains; a low period, point, or level; or a a hollow or depression."ii Our own definition probably comes pretty close to that. But the encouragement is the beauty of the valley and knowing that the valley is important and beneficial in your walk with God. Through it, you learn to walk more closely with Him and experience an intimacy you never knew before. And you experience His comfort so you can comfort others (see 2 Cor. 1:4), you experience His faithfulness, and you have an opportunity for God to be glorified in and through you (see 1 Peter 5:10-11).
So what should we do when we bite into a chocolate we want to spit out?
Praise. Praise and worship moves the heart of God. Take your eyes off of yourself and move them on to your Maker, no matter the circumstance (see Acts 16:25-26).
Pray. Pray on your face before God. Don't quit. Jesus said that men always ought to pray and not lose heart (see Luke 18:1). Prayer gives new perspective and strengthens you (see Luke 6:12).
Proclaim. Proclaim the promises of God. His Word and His promises are for you and me. Hide them in your heart (see Ps. 119:11). Speak them out loud!The Lord promises to make your Valley of Trouble a door of hope (see Hos. 2:15). That door, that hope, is Jesus (see John 10:7). He is our Shepherd. He makes us to lie down in green pastures. He leads us beside still waters. We do not need to fear evil, for He is with us; His rod and staff are our comfort. Know, dear sister, that goodness and mercy shall follow you all the days of your life and you shall dwell in the house of the Lord forever (see Ps. 23). The words of Forrest Gump may be true—we don't know what we're going to get each day, but we know the One who does know, so take heart. Enjoy today! Your God is faithful.
There are currently no comments for this article.