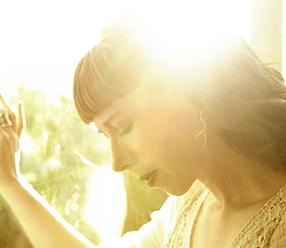 Can I Get a Little Help?
Jul 17, 2015 / Comments (0) / Written by Maria Pardo
Do you remember the television show I Love Lucy? In the episode called "Job Switching," Lucy and her best friend, Ethel, worked on an assembly line in a chocolate factory. They were on a job hunt, and by failing to tell the truth, ended up with assignments they were not equipped for. The scene is classic: Lucy and Ethel donned chef hats and aprons and sat in front of a moving conveyor belt of candies. Their job was to wrap each candy as it went by. As they missed more and more of the speeding sweets, they began to pull chocolates into a pile, then tried to eat them, and eventually dropped them into their blouses in order to clear the conveyor belt. The supervisor walked in, said they were doing a splendid job, and gave the order to speed it up!
Do you ever feel overwhelmed like that? You have a family, children, a job, errands to run, meetings to attend, emails to write, friends to reconnect with, a pile of laundry to wash. They're all good things, but maybe you feel like that conveyor belt is moving just a little too quickly. Maybe you have created a picture in your head of the picture-perfect woman, but you don't really resemble that picture. It is easy to become anxious and worn out before the day has begun. Or, perhaps, it causes a stirring of pride: "I am superwoman. I can do it all!" Many of us have the self-imposed expectation that we can and should be able to do it all.
Perhaps you have fallen into the lie that you are everything. Maybe we like that lie—the one that says moms are superwomen and that women work to greatness by themselves. This trap of pride and sin has played a part in many lives. Sometimes women are reluctant to say, "I cannot do it all," to admit inability, or to ask for help. The ability to say those things has vanished.
"Talk no more so very proudly; let no arrogance come from your mouth, for the Lord is the God of knowledge; and by Him actions are weighed" (1 Sam. 2:3).
In his book Respectable Sins, Jerry Bridges wrote, "So why do we boast, either in an overtly proud fashion or in a more subtle way in which we want to be proud but don't want to appear to be? In both instances, it is because we have failed to acknowledge that success came from God…. Whether it is our own success or that of our children, and in whatever endeavor it may be, failure to acknowledge that the success has ultimately come from God tends to promote the pride of achievement that does not honor God. And this form of pride is sin—subtle sin to be sure, but still sin."[i]
Thinking of yourself more highly than you ought to—thinking that you can and will achieve everything or that you are self-sufficient—is choosing to believe the same lie. The Bible calls pride sin, and we only deceive ourselves.
Philippians 4:4-7 says, "Rejoice in the Lord always. Again I will say, rejoice! Let your gentleness be known to all men. The Lord is at hand. Be anxious for nothing, but in everything by prayer and supplication, with thanksgiving, let your requests be made known to God; and the peace of God, which surpasses all understanding, will guard your hearts and minds through Christ Jesus."
This verse gives us a quick two-step answer to get back on track:
When you are overwhelmed with the cares of this world, when you feel like you must do it all, or realize you cannot, or when you are drowning under the weight of failed achievements, turn to the Lord. "The Lord is at hand" speaks of the Lord being near; He is close and accessible. The Lord is there to be your help. He gives the grace to accomplish things and to continue each day.
This passage then says to "let your requests be made known to God" or request His help. While the to-do list may not shrink and the roles you must fill will still be waiting, you do not have to go on alone.
When you are confronted with your sin, you are to come before God to seek His grace and forgiveness. First, confess your sin to God: the sin of anxiety and pride that has prevented you from coming to this place before. Second, rejoice that He is your strength and it is by His grace that you are able to achieve anything in this life. Acknowledge your dependence on Him. Third, ask! Bring your requests for help before the Lord. He hears and will answer you.
"'For all those things My hand has made, and all those things exist,'" says the Lord. 'But on this one will I look: on him who is poor and of a contrite spirit, and who trembles at My word'" (Isa. 66:2).
[i] Jerry Bridges, Respectable Sins, Colorado Springs, NavPress, 2007, Pages 94, 96.
Maria Pardo
There are currently no comments for this article.