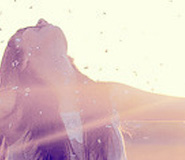 Freedom of Forgiveness
Jun 04, 2015 / Comments (0) / Written by Maria Pardo
"We hold these truths to be self-evident… that [all men] are endowed by their Creator with certain unalienable Rights, that among these are Life, Liberty and the pursuit of Happiness."[i] This statement from the Preamble to the U. S. Declaration of Independence is a pleasant concept, but it is hard to understand. What is true happiness? And if pursued, how will we know for certain if we get it? Thankfully, God's Word is not vague on this subject. In Psalm 32, David presented what it takes to obtain true happiness.
"Blessed is he whose transgression is forgiven, whose sin is covered. Blessed is the man to whom the Lord does not impute iniquity, and in whose spirit there is no deceit" (vv. 1-2). Blessed is a term that means happy, and David began this psalm by directing our attention to a truly happy person—one who has been forgiven. The verses that follow give three considerations for our pursuit of happiness.
Unhappiness. "When I kept silent, my bones grew old through my groaning all the day long. For day and night Your hand was heavy upon me; my vitality was turned into the drought of summer" (vv. 3-4).
David kept silent regarding his sin, causing agony in his soul. While this may seem a dramatic response, it is heartfelt, honest, and led by God. In John 16:8, Jesus said that the Holy Spirit would convict the world of sin. The conviction itself is not the pain, but when sin goes unconfessed and unrepentant, anguish follows. Have you experienced a troubled soul because of hidden sin in your life? Unconfessed sin will rot you from the inside out.
Consider: Will you allow the Holy Spirit to work within your heart and convict you of sin? It may be that you lie or have greed, jealousy, or hatred in your heart. Maybe the sin is one of anger, pride, or rebellion against God. Ask the Holy Spirit to reveal what is causing groaning within and what you have allowed to go unconfessed in your life.
Confession and Forgiveness. "I acknowledged my sin to You, and my iniquity I have not hidden. I said, 'I will confess my transgressions to the Lord,' and You forgave the iniquity of my sin" (v. 5).
David then confessed his iniquity before God. Admission of guilt is the first step to reconciliation. The Lord calls us to repentance and gives a clear remedy for the agony of sin—confession. "If we confess our sins, He is faithful and just to forgive us our sins and to cleanse us from all unrighteousness" (1 John 1:9). Repentance is the turning point. Forgiveness does not wait for some ritual; it is timely, given by the Lord upon confession of sin. God's forgiveness will cover and remove sin from us. In this forgiveness, the pursuit of happiness is satisfied.
Consider: Have you confessed your sins to the Lord? Whether you have just begun to understand the grace and forgiveness of God, suffer the sin of unbelief, or are a follower of Christ who continues to be tempted by sin, confess those things to God and you will find true joy, happiness, and lasting forgiveness for your sin.
Praise and Prayer. "For this cause everyone who is godly shall pray to You in a time when You may be found; surely in a flood of great waters they shall not come near him. You are my hiding place; you shall preserve me from trouble; you shall surround me with songs of deliverance" (vv. 6-7).
Forgiveness of sin allowed David to enter into authentic communion with the Lord. He went from agony and unhappiness to utmost joy in one moment. Our relationship with God does not end at forgiveness. All who are godly have an open door of communication with God Himself, to pray and praise the Lord of all. The Lord God is the hiding place. He delivers from the trouble of accusations, failures, and pain and surrounds with songs of praise and deliverance. C. H. Spurgeon said, "Oh, the blessedness of sitting at Jesus' feet, a sinner washed in his blood! Outside of heaven there is no greater joy; and even there they sing of bloodwashed robes."[ii]
Consider: offer up thanksgiving and praise to God for all He is and all He does for you. Through confession and forgiveness of sin, you have an ongoing audience with God Himself, and He will be found when you seek Him.
[i] Declaration of Independence: A Transcription, http://www.archives.gov/exhibits/charters/declaration_transcript.html, accessed 6/27/14.
[ii] C.H. Spurgeon, "Bit and Bridle: How to Escape Them," February 15, 1891, http://www.spurgeon.org/sermons/2190.htm, accessed 6/27/14.
Maria Pardo
There are currently no comments for this article.