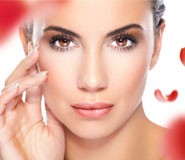 True Beauty
May 04, 2015 / Comments (0) / Written by Janae Heitzig
Are you beautiful? Better yet, what is beauty? Do you work hard trying to be more beautiful or more physically attractive? I think it is safe to say that as women, we tend to care a lot about our appearance. I would even go as far as to say we care so much about our outward appearance that we strategically address this issue every day. A 2010 Allure Magazine survey shows that the average woman takes seventy-six minutes to get ready each day. Seventy-six minutes might seem like a lifetime to some, while others think, That simply will not do! Regardless of where you stand, in today's society the emphasis on a woman's physical beauty is staggering. We are consumed by the latest and greatest trends of accomplishing the façade of what the world labels beautiful. Makeup and hair, diet plans and workout rituals, fashion-forward wardrobes and accessories—I admit I have done it all. The most effective way for my mind to grasp what is happening is this illustration: if we are the fish, then beauty is the lure, and we fall for the bait every time!
Our mistake is not in desiring or striving to be beautiful, but rather in what we perceive as beauty. According to the Bible, beauty is not established outwardly; it is developed inwardly and then naturally flows outwardly. First Peter 3:3-4 says, "Your beauty should not come from outward adornment, such as elaborate hairstyles and the wearing of gold jewelry or fine clothes. Rather, it should be that of your inner self, the unfading beauty of a gentle and quiet spirit, which is of great worth in God's sight" (NIV). So, why do so many of us spend so much time making ourselves outwardly appealing, but so little time on making the gospel, Jesus, or our hearts attractive? Do you spend just as much time—if not more time—in God's Word or in prayer than you do at the gym, doing your makeup, or getting dressed? Do you worry more about what the world sees than what our Lord sees?
As Christians, our concern should not be a beauty that fades with the day, but one that flourishes with time. The more time and energy we invest in our relationship with the Lord, the more vibrantly beautiful we become. Scripture instructs us to walk in the Spirit and not in the flesh—to live virtuous lives that reflect His glory, to be women who do not adorn themselves but who adorn the gospel. Titus 2:10 says, "So that in everything they may adorn the doctrine of God our Savior" (ESV). To adorn is to make attractive, decorate, and beautify. We are called to portray the beauty of the gospel through our lives and, as a result, our beauty will be a reflection of what God has done in us. I love the way Carolyn Mahaney puts it in her book Feminine Appeal: "To 'adorn' means to put something beautiful or attractive on display—like placing a flawless gemstone in a setting that uniquely shows off its brilliance. The gospel is like the most valuable of jewels. It is the pearl of great price."
So I'm calling you out: put away the makeup and straight irons, keep your clothes in the closet, and spend a day not looking in a mirror but rather looking to the Lord. Cling to what is holy and true—the Word of God—knowing that true beauty lies within. Proverbs 31:30 says, "Charm is deceitful and beauty is vain, but a woman who fears the Lord, she shall be praised" (NASB). Today, I encourage you to embrace your desire to be beautiful, but first, start with your heart!
Today's takeaway! Challenge yourself to:
Put down the mirror, and pick up the Word (see Josh. 1:8).
Focus on inward beauty instead of outward beauty (see 1 Peter 3:3-4).
Live to glorify God on a daily basis through all that you do, say, and the way you appear (see Titus 2:10).
Janae Heitzig
There are currently no comments for this article.