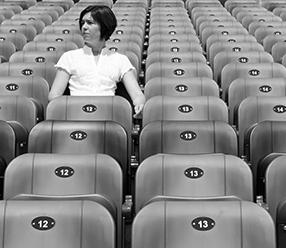 Fear Not
Mar 06, 2015 / Comments (0) / Written by Maria Pardo
Fear Not
By Maria Pardo
When I was a child, a lot of things frightened me: the dark, under the bed, monsters in the closet. When many of us were little and afraid, we would go running to our moms and dads, knowing they could bring comfort. As we grew, those fears changed and took on a new form: fear of failing, rejection, bullies, accidents, or loss. Fear doesn't exactly go away when we are adults, either; sometimes, those same fears linger throughout our lives, controlling our thoughts and actions. Though occasionally we might call our parents, more often we feel left to deal with those fears alone. Goblins, ghosts, and the bogeyman are fictitious, but the dread we experience can be very real. So what are we to do when fear comes knocking?
The Bible is not quiet about the topic of fear. One hundred twenty-nine times God's Word says, "Fear not" or "Do not fear." While it may sound hard to stop fearing just because you are told to, when you look at who said it and understand who empowers you to not fear, there is peace.
But now, thus says the Lord, who created you, O Jacob, and He who formed you, O Israel: "Fear not, for I have redeemed you; I have called you by your name; you are Mine" (Isa. 43:1).
As believers, we have an audience with our Maker—the Lord of all. He has redeemed those who believe in Jesus' death and resurrection and has already saved us from eternal death. Beyond that, He calls us His own. Romans 8:15 says, "For you did not receive the spirit of bondage again to fear, but you received the Spirit of adoption by whom we cry out, 'Abba, Father.'" Just like a child has parents to cry out to when they are afraid, we have our heavenly Father who is present when we call. Take comfort that your Father in heaven is concerned for you. We can put our trust in God Himself and be freed from the power of fear in our lives.
Jesus said, "And I say to you, My friends, do not be afraid of those who kill the body, and after that have no more that they can do" (Luke 12:4). Many people fear death, people, or circumstances, but when we put our trust in God the Father, we do not have to be afraid of anything in this life. God is the life-giver and has control over each day of our lives. In Luke 12:5-7, Jesus went on to say that God cares even for the small sparrows and knows the number of hairs on our heads. Knowing that God is concerned with what seems like the tiniest details should comfort each of us. He commands us to fear not! Because you are valuable to Him as a child of God, nothing can move you from His love.
Apply and Identify:
For the following exercise, you will need a Bible, a notebook or journal, a pen, and an index card. Pray before you begin, and ask God to help you study His Word and apply it to your life. Then answer the questions below.
What or whom is causing you to be fearful?
Who has enabled you to overcome that fear? List some of the names and attributes of God.
Read Isaiah 41:10 and 43:1. Where is God when you afraid?
Why is His power able to overcome any fear you have? Look again at the passages in Isaiah and at some of the references listed below.
Who are you to God? Using the verses listed below, write down who God says you are to Him.
Scripture is one of the greatest tools we have for overcoming our fears. Choose a verse that addresses fear, and write it on an index card. Place that card where you will see it daily, and remind yourself of God's promises and commands.
Here are more references you can look up to anchor these truths of Scripture in your life. You can also use a Bible concordance to look up more verses that address fear and God's solution of peace. These passages and others remind us to be without fear and to put our trust in God:
Psalm 46:1-3
Proverbs 3:25-26
Isaiah 41:10-13
Isaiah 43:1-7
Romans 8:28-39
Ephesians 6:10-13
1 John 4:18
Maria Pardo
There are currently no comments for this article.