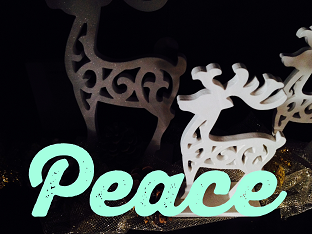 The Gift of Peace
Dec 31, 2014 / Comments (1) / Written by Maria Pardo
"Glory to God in the highest, and on earth peace, goodwill toward men!" (Luke 2:14).
In December, we cannot help but think of the night when Jesus was born and the angels made this strange announcement made to a group of lowly shepherds. Their words are displayed on Christmas cards, spoken in church services, and mentioned in many carols. It's a message of peace.
When we look around at everything going on in the world, we see a complete contrast to peace. It is missing at the shopping centers, in traffic, on the news, and sometimes even in our homes. So, what was the peace that the angels announced? Is it more than an unattainable concept? Peace is defined as quiet tranquility, an absence of oppressive thoughts or emotions, and harmony. We may have moments when we experience this peace on earth, but according to the Prince of Peace, there is so much more to peace than that.
What Jesus said to His disciples in John 16:33 sheds light on this issue: "These things I have spoken to you, that in Me you may have peace. In the world you will have tribulation; but be of good cheer, I have overcome the world." In John 13-17, when Jesus was spending His final moments with His disciples before His crucifixion, He told them of things to come: many trials, His own death, and the Helper, the Holy Spirit. He also told them that He would depart and that they would be scattered (see John 16:32). This doesn't sound peaceful or anything like the joyful message of a baby in a manger, yet it is the message of peace—the same message sung by the heavenly host. Peace is found in Jesus Christ alone. It is not in the angels, the shepherds, the perfect gift wrapped in pretty bows, or the scene in the barn in Bethlehem.
Thayer's Greek Lexicon describes this unique peace as "a conception distinctly peculiar to Christianity, the tranquil state of a soul assured of its salvation through Christ, and so fearing nothing from God and content with its earthly lot, or whatever sort that is." It is given by and contained within the Messiah, Jesus Christ. Nothing else comes close to the depth of this peace.
Jesus said, "Peace I leave with you, My peace I give to you; not as the world gives do I give to you. Let not your heart be troubled, neither let it be afraid" (John 14:27). The gifts we buy and wrap up to give to our loved ones hold meaning, but they will not last forever; they will one day fade away. Perhaps they will be broken or outdated in a few months or a year. Jesus' gift of peace will never fade away. He gives peace, harmony, and tranquility to those who are willing to receive it. We can rest in Him, live without fear, and remain steadfast in trouble.
While we may be tempted to think about peace only late at night when everyone is asleep and it is quiet, let us not allow it to be merely an afterthought, but rather a focus during this season. Has turmoil taken hold of your life? Maybe this season brings memories of loved ones lost or of pain, sorrow, or loneliness. The remedy for unrest is found in the peace of Jesus Christ. He will not disappoint.
If your heart is troubled or you feel like the hustle and bustle of the holidays are robbing you of peace, designate fifteen to twenty minutes to contemplate this gift.
Gather your Bible, a pen, a journal, an index card, and a Bible concordance.
Sit before Jesus, and ask Him to replace heaviness with His gift of peace.
Write down what is causing you to lose peace, then set it aside. If you find that it is due to personal struggles, consider 2 Peter 3:14: "Therefore, beloved, looking forward to these things, be diligent to be found by Him in peace, without spot and blameless." Peace also comes through sanctification and obedience to God. If there is an area in your life that you need to confess, take time to pray and come to a right standing with Christ, cleansed by His blood.
Use a concordance to find verses containing the word peace. Then look up the following passages: John 14:27; John 16:33; Hebrews 12:14; James 3:18. Write down these verses next to your first list.
Ask God to replace your list with His. Pray that "the peace of God, which surpasses all understanding, will guard your hearts and minds through Christ Jesus" (Phil. 4:7).
Lastly, write down one verse of peace on an index card, and place it by your bedside table or another location to remind you that Jesus is the Prince of Peace.
Maria Pardo
Powerful words. wonderful direction for the New Year.
Posted Jan 15, 2015 08:25:12 AM by Cheryl Governale