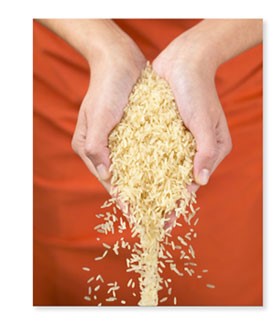 Buhfai Tham
Dec 04, 2014 / Comments (0) / Written by Zanetta Romero
Mizoram is said to be the poorest of the poor in Northeast India. And yet, the Christian community in Mizoram has raised millions of dollars to support themselves, grow their local churches, and send out 1,800 missionaries all over the world. The reason for their success? Their selfless giving.
Each time the Mizo people make a meal, they set aside a handful of rice, known as Buhfai Tham. Later, they gather it and offer it to the church. The church then sells it and generates income to support its work. This is a practice that has been going on since 1914 and has been passed down from generation to generation. The Mizo people have raised over 13 million dollars through this initiative. Despite poverty, the people are faithful to give what is in their hands. One Mizo man said, "Rice has been the staple food of the people of Mizoram. You are giving what is basic, essential, and fundamental to your life. You are sharing that with God." i The people have seen God's faithfulness and over time have come up with more ways to add to their giving by offering vegetables and firewood. This is all in addition to their regular tithes! ii
In the book of Mark, Jesus told the disciples about a poor widow who dropped two small coins into the collection box in the temple. He said, "I tell you the truth, this poor widow has given more than all the others who are making contributions. For they gave a tiny part of their surplus, but she, poor as she is, has given everything she had to live on" (Mark 12:43-44, NLT). Jesus not only saw the contributions that were made, He saw the condition of the heart. He knew this widow was giving all that she had from her heart unto the Lord.
The Bible encourages selfless giving—giving from our heart as the Spirit prompts us, "not grudgingly or of necessity for God loves a cheerful giver" (2 Cor. 9:7). He promises that as we give, grace will abound and we will always have sufficiency in all things so that we can continue in this good work of giving (see 2 Cor. 9:8-9). He is able to multiply the seed of giving we sow and bring increase into our lives personally. This gift of giving helps supply for the needs of saints and causes thanksgiving to abound among God's people. As needs are met and thanksgiving abounds, God is glorified! (See 2 Cori. 9:10-15.)
We are taught in Scripture to first give our tithes and offerings to God and also to give financially to those in need. Like the Mizo people, let us keep in obedience those things while looking for other creative ways to give.
Give from the heart. Ask God to prompt your heart to give. Be specific. Ask to whom He would like you to give and what He would like you to give. God is the ultimate creative One!
Invest in another's life. Give your time to another. A listening ear, a hug, even a smile can change a life!
V Serve at your local church or outreach. Volunteer at your child's school. Make a meal for someone in need.
Encourage others. Strengthen them in God's Word. Help them gain a new perspective. This too is a gift we must not keep to ourselves (see Acts 11:22-24).
In Luke 6:38, Jesus said "Give, and it will be given to you: good measure, pressed down, shaken together, and running over will be put into your bosom. For with the same measure that you use, it will be measured back to you."
It has been said that we don't give to get but we get to give. Let's get started with cheerful hearts, ladies, and see what the Lord does! May He alone be glorified. Rejoice as He rewards you openly for your obedience (see Matt. 6:3-4). Amen.
Zanetta Romero
There are currently no comments for this article.