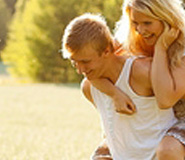 The Best Defense Is A Good Offense
Aug 07, 2013 / Comments (1) / Written by Janae' Heitzig
Throughout my childhood and into my adult life, I was involved in high intensity sports: club soccer, club softball, cross country, and track and field. From these experiences it will forever be imprinted in my mind that "the best defense is a good offense." I might have only applied this concept to the sports arena. However, I have learned that this is a great concept to apply to all aspects of life. For example: marriage. My husband and I faced some struggles common to newlyweds in our first year of marriage. Let me share with you how we learned to proactively defend our marriage. Rather than passively letting things get worse, we chose to go on the offense and defend our marriage from the things that could harm it. Here are three easy-to-remember principles you can do to be proactive in your marriage, too.
Practice Makes Perfect
An athlete trains his or her body to develop muscle memory so that their body will perform at a consistent intensity. An artist trains his or her eye to see beauty and reproduce it with simplicity. A musician trains his or her ear to hear melodies when a string of chords are put together to produce a song. So if practice makes perfect, why don't we practice love? First Peter 4:8 tells us, "Above all, love each other deeply, because love covers over a multitude of sins" (NIV). We need to train our hearts to love others as Christ loves us--especially our spouses.
In today's society we have it backwards. We spend our time and energy trying to find the love of our lives. After we find Mr. Right we do everything in our power to make him fall in love with us. Then the wedding vows are repeated and the wedding license is signed, the effort we put into making Prince Charming fall in love with us goes out the window.
Throughout our marriage, Nathan and I have learned that it's essential to continually express our love for one another. We do this through dating as we did when we were first getting to know each other, through simple gestures like holding hands when we walk, and through words of encouragement in person or via phone or text. Wooing our spouses should not end on the day we say, "I do." That's only the beginning. Training your heart to passionately love your husband is a choice you make every single day, not something you do when you feel like it. It takes practice, but that's okay because "Practice makes perfect!"
There's No "I" in Team
Most teams come together before a game for a pep talk. The coach usually reminds them that they're all in this together. If you're playing basketball, don't hog the ball. If you're playing football, guard the quarterback. Everyone needs to learn and follow the plays. No lone rangers. Most coaches sum it up in one sentence: "There's no 'I' in team!" In a marriage, you can build a team by discovering your spouse's love language and speaking it on a daily basis. Paul tells us to approach our relationships with Christ-like attitudes--which means to think of others before ourselves. "Let love be without hypocrisy. Abhor what is evil. Cling to what is good. Be kindly affectionate to one another with brotherly love, in honor giving preference to one another; not lagging in diligence, fervent in spirit, serving the Lord" (Romans 12:9-11). As husband and wife, it is important to serve each other without keeping a score card of who has done what. I call this the "There is no I in team" facet of marriage. Basically, it's not about you! Men and women--sinful human--shave a tendency to approach relationships focused only on themselves. We have a "What can I get out of this?" attitude. But as Christians, we are called to a different standard--to love and serve one another without expecting to receive something in return. Jesus said, "Whoever desires to become great among you, let him be your servant. And whoever desires to be first among you, let him be your slave--just as the Son of Man did not come to be served, but to serve, and to give His life a ransom for many" (Matthew 20:26-28).
Some of the best advice Nathan and I ever received was to make it our goal to focus on serving each other. Rather than constantly thinking about what we need and asking questions like, "Why didn't he_______?" or "Why couldn't she_______?" (Fill in the blanks.) We trained ourselves to ask questions like, "How can I better serve him/her?" We learned the importance of keeping the focus off whether or not your spouse "deserves" something and focusing on how you can be the best partner you can be. I believe many marriages today would be much stronger if we spent our time trying to out serve and out love one another rather than trying to tear one another down. Make it a personal challenge to speak your spouse's love language(s) fluently. For example, Nathan's love languages are words of affirmation and physical touch, while one of my love languages is acts of service (for more information, see Gary Chapman's wonderful book The 5 Love Languages). If I were to clean the house--even though that would be nice and he would appreciate it--in his mind it does not say "I love you" as it would for me. I have learned that something as simple as greeting him at the door with a warm hug and kiss screams "I LOVE YOU!" to Nathan...and it feels pretty good to me, too! Speaking your spouse's love language, although it may be foreign to you, expresses love in the ways they need most. Remember there is no "I" in team. Remember God's priorities when it comes to marriage: first God, then your spouse, then you. When you keep God's priority list, He'll bless your socks off.
Never Give Up
Most good athletes know that the last quarter of the game can make the most difference between winning and losing. The last leg of the marathon will give you the burst of adrenaline to help you cross the finish line. It's not how you start but how you finish that counts. The motto for elite athletes is simple: "Never give up." The motto in marriage is the same. Never. Ever. Give. Up.
Marriage is a trifold relationship; it is a covenant that you made on your wedding day between God, your husband, and yourself. This commitment should be taken seriously and should constantly be invested in and nurtured. The most valuable principle for our marriages is one which I feel is important to apply to all of our lifelong relationships. The spiritual component which I call the "Never give up" principle of relationships is reflected in the Lord's instruction to "pray without ceasing" (1 Thessalonians 5:17) and to "pray for one another, that you may be healed. The effective, fervent prayer of a righteous man avails much" (James 5:16). If you want the Lord to be the leader of your life, your spouse's life, and your marriage, then steep one another in prayer every day.
Nathan and I have learned so much about each other from the emphasis we have placed on our personal relationships with the Lord and our spiritual relationship with each other. It is incredibly important for you to be praying for and praying with your spouse regularly. We have a set time to be in the Bible together and we also set aside a time to share with each other about what the Lord is teaching us through our personal quiet times with Him. This has radically reshaped our marriage.
The condition of your spiritual relationship with the Lord and how active your spiritual relationship with your spouse is determines how successful your marriage will be. I wholeheartedly believe that you can overcome any form of trial and tribulation that you may face in life as long as you are united as one in Christ.
On the sports field it is often said, "No pain, no gain." I feel the same is true in marriage. Marriage is hard work, sometimes painfully hard. But tough times bring blessings. "We also glory in tribulations, knowing that tribulation produces perseverance; and perseverance, character; and character, hope" (Romans 5:3-4).
Through the difficult times in our marriage--from facing the devastation of miscarriage, to marital strife, to mundane mishaps--we have grown more in love and more in unison than I could have ever anticipated. God has used the pain in our lives to make us stronger than we could have imagined.

If you are going through a difficult season in your marriage, be encouraged. Remember that the best defense is a good offense. Have the patience to practice love. Recall that there's no "I" in team. Put your spouse's needs above your own. And above all, never give up. God didn't give up on you, so please don't give up on your marriage. Have hope in the promises of our God, faithfully seek Him, diligently serve your husband, be receptive to godly counsel, and expectantly wait on the Lord because He will fulfill His promises. "We know that all things work together for good to those who love God, to those who are the called according to His purpose" (Romans 8:28).
Janae' Heitzig
Thank you Janae for those amazing words. It is our four year anniversary today and the last few days have been a trial by fire. We are still not out of the woods yet but when I read this today...suffice it to say I have been blessed. Seems like my eyes have been opened. I "knew" that marriage takes effort and team work but over the years I had forgotten and started feeling sorry for myself. Thanks for getting me back on track! I got my "JOY" back like the old Sunday school song....Jesus first, Yourself last and Others in between.
Posted Aug 08, 2013 02:06:00 PM by Drowning