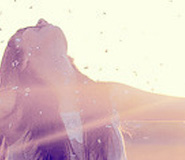 Rejoice With Those Who Rejoice
May 09, 2013 / Comments (0) / Written by Maria Pardo
We have all sat and cried with close friends going through pain. We've wept with another as they faced grief, cried for the loss of loved ones, and been up into the wee hours of the night, praying for someone dealing with trials and troubles. I've soaked my own pillow in tears over a miscarriage, the death of a family member, saying long goodbyes, struggles with relationships, and the uncertainty of life. Often in those times, this verse comes to mind: "Consider it all joy my brethren, when you encounter various trials" (James 1:2, NAS). We remind ourselves that in the fiery trials "the genuineness of [our] faith, being much more precious than gold that perishes, though it is tested by fire, may be found to praise, honor, and glory at the revelation of Jesus Christ" (1 Peter 1:7).

Sometimes life brings times of sadness and grief more often than those of sheer joy. As we see the depravity, the news full of sadness and grief, it is not difficult to empathize with suffering, loss, and sorrow. To weep with those who mourn can be easy, as we all are groaning for eternity and living in a fallen world.
But what about rejoicing with those who rejoice? When was the last time you heard someone's good news and felt true joy for them? Do you celebrate a friend's promotion? Your neighbor's new car? Their good report from the doctor? When did you hear about good things happening to someone else and really feel joyful -- without a tinge of self pity or jealousy? We must rejoice in the goodness and mercy the Lord gives!
In addition to having joy and peace from God during troubled times, God's Word instructs us to rejoice with those who are rejoicing (see Rom. 12:15). Be glad for the friend who aced her exams, for the one who found out they are cancer-free, for the family expecting a new baby, or the neighbor whose child received Christ.

A smile can be contagious, and the joys shared with a friend can be so sweet and refreshing to the soul.
If there aren't any major events to celebrate in your life or the lives of others, or if your life seems gray and sorrowful, look to the Scriptures. In them, you'll find many examples of times God says to rejoice. Here is a sampling of what the Word says about rejoicing:

The Lord enjoys our celebration and joy. In fact, He established a holiday for the Israelites to spend seven days rejoicing together called the Feast of Booths (see Lev. 23:39-41).
The righteous are to rejoice in the Lord for His salvation and protection (see Ps. 32).
Those who seek God are to rejoice in Him and His Salvation (see Ps. 40:16).
Rejoice when the righteous increase (see Prov. 29:2).
Rejoice when the lost is found (see Luke 15).
Rejoice, as Paul did, when there is repentance from sin (2 Cor. 7:9).
A fruit of the Spirit is joy (see Gal. 5:22).
Rejoice when Christ is proclaimed (see Phil. 1:18).
Rejoice always (see 1 Thess. 5:16).
Rejoice in trials and for the salvation of God and faith to believe in Him (see 1 Peter 1:6-9).
Have joy when others are walking in the truth (see 3 John 1:4).
Rejoice that the devil has only a short time before judgment (see Rev. 12:12).

When you hear good news, celebrate and rejoice in the goodness of God! Making the time to rejoice with one another can be a big party, a phone call, or a written note. I challenge all of us to spend just one hour this week with a fellow sister in Christ to talk only about the good things the Lord has done in our lives. Bake a cake, go out for coffee, or invite a friend to lunch, and enjoy the fellowship of rejoicing together in the Lord.

"Rejoice in the Lord always. Again I will say, rejoice!" (Phil. 4:4).
Maria Pardo
There are currently no comments for this article.