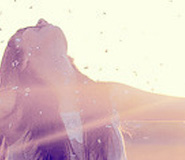 Let Go and Let God
Apr 24, 2013 / Comments (1) / Written by Janae Heitzig
God showed me how to "let go and let God" while watching one of my son Seth's favorite movies, Finding Nemo, about a young clownfish named Nemo who disappeared from home. His pessimistic father, Marlin, joined a happy-go-lucky blue-tang fish, Dory, to scour the sea in search of his lost son. And just like Jonah, our dynamic duo got sucked in by a whale. While feverishly struggling to stay in the creature's mouth, Dory heard the whale tell them to swim to the back of his throat and go with the flow.
Dory said, "He says it's time to let go."
Marlin, uncertain about the advice, replied, "How do you know something bad isn't going to happen?"
"I don't!" answered Dory, as they both let go.
I found myself thinking, No! Don't do it! He's going to eat you alive. Then the Lord brought to mind all the times I felt swallowed up by my circumstances, too. I acted like Marlin, washed over by doubt, worry, and massive hesitation. Instead of letting go like optimistic Dory, I clung tight to fear. Isn't that how most of us feel when something unexpected comes our way? Instead of trusting the Lord, we look for some concrete assurance. When we actually need to take a leap of faith to move forward, we stubbornly cling to shaky foundations.
After my first year of marriage, just like Marlin, I was stuck between fear and faith. What made things worse is that I was a pastor's wife, a person who was expected to have everything together. Nobody knew that in my heart I'd reached the end of the line in my marriage. Our relationship fell to an all-time low. I felt done trying to push on or merely make it through our difficulties. Like our fish friends, it took all my strength to hold on to a slippery spot when I should have released my marriage into God's hands.
My husband and I crashed into an all-too-common dark place in our marriage. We lacked the establishment of marital roles, healthy communication, comprehension of the love languages, and how to achieve unity. Like many women, I didn't want to submit because I felt taken advantage of and unappreciated. Nathan, on the other hand, refused to put up with my disrespect and felt I had unreasonable expectations. We needed to obey Paul's command that men must love their wives as Christ loves the church, and women should respectfully submit to their husbands (see Eph. 5:22-33). Neither of us obeyed the Word. Yet we feared the Lord too much to abandon our marriage altogether. Pride kept us pointing the finger at the other person. Instead of trusting in God's promise, "For I know the thoughts that I think toward you, says the Lord, thoughts of peace and not of evil, to give you a future and a hope" (Jer. 29:11). I decided to stick to my guns and plant my feet in what I describe as "wet cement."
Why didn't I simply rely on God? Why did my faith waiver? I disregarded His wisdom to be still and know that He is God (see Ps. 46:10). Internally, I denied God. "How?" you may ask. I naively reached out to a male, Christian co-worker looking for some kind of insight and reassurance that I deserved better. The more I confided in this man about my marital struggles, the more emotionally dependent I became on him instead of my husband. The more I justified my actions, the harder my heart grew toward Nathan -- and God. Regardless of how I thought my marriage had failed me, I let my emotions get the better of me. I allowed someone besides my husband to be my best friend. Godly marriages should never permit the opinion of another to create division. The result? A crater the size of the Grand Canyon separated Nathan and me.
"But God." Those two words have become my favorite phrase in Scripture. He remained faithful even when I behaved faithlessly! He exposed the darkness and brought it to the light. He provided godly and compassionate counsel. He surrounded us with a praying family. And somehow, out of this seemingly destructive season, God brought healing, growth, wisdom, and humility to our marriage and to our individual lives.
What about you? Like me or Marlin, are you drowning in waves of emotions? Are you holding on to a grudge when you should be letting it go? Maybe you are at the perfect "But God" moment. He can redeem any situation, circumstance, or person regardless how far gone it may feel. God is simply waiting for you to realize it is time to let go! You need to surrender all control to the Lord. I don't know what will happen but I know this: God loves you! Marlin the pessimistic clownfish had to do this very thing -- let go! And when he did, the whale blew him, along with his faithful friend Dory, right out of his blowhole to land miraculously at their ultimate destination, Sydney, Australia.
After Marlin and Dory were released from the mouth of the whale they faced more trials, but now they did so with an optimistic perspective and a determination to not lose faith. Christians need the same attitude. "Be anxious for nothing, but in everything by prayer and supplication, with thanksgiving, let your requests be made known to God; and the peace of God, which surpasses all understanding, will guard your hearts and minds through Christ Jesus" (Phil. 4:6-7). I challenge you to do that today, to let God redeem what appears to be unredeemable in your life through surrendering it to Him. Surrender your struggling marriage, your relationship(s), your finances, your worries, your insecurities, your pride, your life! Enjoy "casting all your care upon Him, for He cares for you" (1 Peter 5:7).
Janae Heitzig
I truly enjoyed reading this article. I too am struggling in my marriage for various reason. Why do we try to fix things ourselves instead of turning to God who knows our hearts and needs, and who is in control. Today, once again I have surrendered to God and put my marriage and my life in His hands.
Posted May 21, 2013 11:08:12 AM by Sue Crider