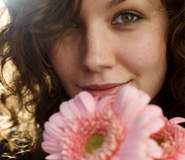 Spring Cleaning
Mar 15, 2013 / Comments (0) / Written by Laura Z. Sowers
There's something therapeutic about spring-cleaning. I was raised on it, and even though I hated it at the time, there was no denying the fresh-start feeling it yielded. I recall still-chilly spring Saturdays with rugs draped over the clothesline and beaten within a dust mite of their lives, or watching Mom back down the basement steps with a bucket and scrub brush in her hands. Bedroom closets spilled their contents into the middle of the floors, and we sorted through them methodically, putting things into piles: Things to Keep, Things to Toss.
Mom truly had the gift of cleaning and organizing. There was not a stain that could resist her relentless scrubbing or her secret compounds -- mysterious mixtures of baking soda and some odd ingredient like club soda or vinegar. She had a knack for covering old shoeboxes with wrapping paper and placing them side-by-side on the closet shelf, giving the appearance of gifts waiting to be opened, rather than utilitarian storage for crayons, doll clothes, or gloves and hats. Desk drawers revealed cigar boxes (also covered in gift wrap), housing pencils, erasers, scrap paper, and thank-you cards. Towels in the linen closet were stacked with precision: greens on the bottom, yellows next, and whites on the top; hand towels and wash cloths pyramided to the side.
I can still see my aproned mother as she surveyed the house with satisfaction, victorious in another battle with dirt and clutter. My brother and I were proud too, for we were participants, not spectators. After spring-cleaning, we were a little more careful about putting our things away and hanging up our clothes -- for a little while.
When I was grown and started taking care of my own home, spring-cleaning went the way of doilies on the sofa and milk bottles on the doorstep. But I still love a clean house, an organized closet, and a kitchen drawer that makes sense when I open it. The result is a pared-down household. Just enough sheets, an extra bed pillow or two, a wardrobe that fits in a shared closet with my husband, and -- here's the best part -- less stuff.
I've discovered that an organized room and the satisfaction that comes from sorting through stuff with the mindset of deciding what can stay and what has to go, translates well for a perpetual spring-cleaning of the heart and mind. What do I want to concentrate on, and how can I make that visible amidst the inevitable clutter of daily life? What does it take to live in the world and still be a God-honoring woman?
This is where the sorting and sweeping and tossing come in: Some things just have to go so the others can be seen, remembered, and used. A list always helps.
KEEP
TOSS
the good memories
... the old resentments
praying
... senseless worry
a sense of humor
... woe-is-me seriousness
tried and true friends
... superficial, draining relationships
courage to face the future
... fears about things I can't control
dignity in an undignified world
... crass and degrading input from various media
trust in the Lord
... misplaced faith in unreliable institutions and prideful people
a loose, caring grip on people I love
... clutching attempts to control
an eternal perspective on growing old
... sadness about the loss of youth
joy in a my relationship with Jesus
... overshadowing anger about the state of the world
a willingness to help others in need
... paralyzing cynicism
hope in the goodness and character of my grandkids and their generation
... a doom-and-gloom view of the future
a sense of wonder
... a jaded been-there-bought-the-t-shirt mentality
ready obedience to God's leading
... over-thinking and under-doing
I wish I could honestly say that I always adhere to this list. I don't. Sometimes I find myself dragging out some harbored bitterness that's stuffed in a garbage bag I failed to take to the curb. Then there are times when I sneak into a dark corner of worry or despair when confronted with trials, illness, or injustice. What can I say? You clean things up and they get dirty again. But, like keeping the house in order, I try to keep up the daily maintenance of my heart and mind. The only way that can happen is to sit in the cleansing light of the Word with my Jesus. Every day.
Laura Z. Sowers
There are currently no comments for this article.