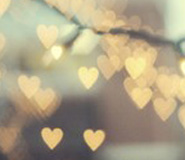 His Love Endures Forever
Feb 28, 2013 / Comments (0) / Written by Jaime Carrillo
Hearts and flowers. An endless barrage of red and pink. Chocolate-covered everything. Love is most certainly in the air! In the midst of juggling all the dinner reservations and romantic hoopla, consider what an opportune time it is to reflect on the greatest love that's ever been given to us. That may be easy for some, but I acknowledge that there may be some of you struggling right now, wrestling with misplaced faith, discouragement, even doubting God's love for you. Is that you today? Sweet sisters, it's not all rainbows and butterflies, but you already knew that. Sometimes it's thistle and weeds. Just keepin' it real. Occasionally we need to take a step back. Get our footing again. Rest. Re-examine our surroundings. Take inventory. Assess. Re-anchor in the Word. And then...proceed thoughtfully. Prayerfully.

John Eldredge said, "The most crippling thing that besets the pilgrim heart is simply forgetfulness, or more accurately, the failure to remember." (The Sacred Romance, pg. 202, emphasis added).

Let us be reminded that He "who did not spare his own Son, but gave him up for us all -- how will he not also, along with him, graciously give us all things?" (Rom. 8:32, NIV).

Let us come to the awareness of all that we have in Him, that "the eyes of your understanding being enlightened; that you may know what is the hope of His calling, what are the riches of the glory of His inheritance in the saints, and what is the exceeding greatness of His power toward us who believe, according to the working of His mighty power which He worked in Christ when He raised Him from the dead and seated Him at His right hand in the heavenly places, far above all principality and power and might and dominion, and every name that is named, not only in this age but also in that which is to come." (Eph. 1:18-21, NKJV)

Let us remember that He has "loved us with an everlasting love," and has "drawn us with lovingkindness" (Jer. 31:3, NIV).

Let us re-examine what "great a love the Father has lavished upon us, that we should be called the children of God!" (1 John 3:1, NIV).

Let us rest in the fact that "neither death nor life, nor angels nor principalities nor powers, nor things present nor things to come, nor height nor depth, nor any other created thing, shall be able to separate us from the love of God which is in Christ Jesus our Lord." (Rom. 8:38-39, NKJV)

And let us re-anchor by remembering that "His love endures forever."

Psalm 136:1-9, NIV

"Give thanks to the Lord, for he is good.

His love endures forever.

Give thanks to the God of gods.

His love endures forever.

Give thanks to the Lord of lords:

His love endures forever.

to him alone does great wonders,

His love endures forever.

who by his understanding made the heavens,

His love endures forever.

who spread out the earth upon the waters,

His love endures forever.

who made the great lights -

His love endures forever.

the sun to govern the day,

His love endures forever.

the moon and stars to govern the night;

His love endures forever."

,
Jaime Carrillo
There are currently no comments for this article.