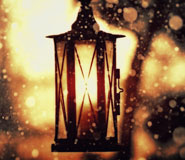 I Will Not Fear the Future
Jan 07, 2013 / Comments (0) / Written by Nichol Naranjo
I'm not sure why, but I've always had a tendency to be a bit apprehensive at the start of a new year. Okay, not a bit, a whole lot apprehensive. Even as a child, I remember thinking, What does this year have in store for me, for my family? Not in an excited way, but in a way that is tied down with dread. I'm one of the biggest Christmas fans you'll ever encounter. As soon as Christmas is over, I start the countdown to next Christmas. New Year's Eve, however, is a different story. If I allow my thoughts to go where no sane person has gone before, I can convince myself that the year ahead will be filled with every horrifying scene I've ever seen on the news or come up with on my own. As I've become an adult, I've been convicted of my fear, knowing that it is not from the Lord. I am always reminded that I must allow Jesus to take my thoughts captive (see 2 Corinthians 10:5). Where I've struggled is with knowing how to release that fear over to Him and instead, trust.

So, what helps me, is first to pray. Confess my fear to God. He already knows it's there. I ask Him to help me to trust in His plan for me and my family for the year ahead. Secondly, I choose to go directly to His Word, in particular, His promises. It's amazing what comfort God's Word brings to us, if we allow it to do so. The promises of God instantly give steadiness to my trembling knees. A few verses I cling to are; Jeremiah 29:11, Romans 8:28, 1 Samuel 7:12. The last verse I mentioned; 1 Samuel 7:12 came to me on New Year's Eve during my quiet time. "Thus far has the Lord helped us." It reminded me of who my God is and who He will continue to be. Thirdly, I often have to repeat steps one and two, and start all over again. I do have to say, thanks to God, I feel I've become less of a New Year's-aphobic and I can actually see great things ahead too. When it's less about me, I'm able to see more of Him. Funny how that works.

You see, no matter what heads our way, good or bad, our Lord will help us. I don't know about you, but that makes all the difference for me. With His help, who am I to fear the future?
Nichol Naranjo
There are currently no comments for this article.