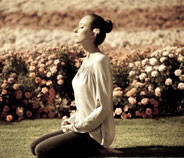 Stuck on an Incline
Jan 03, 2013 / Comments (0) / Written by Zanetta Romero
Over the past week or so, my treadmill has been stuck at about a six incline. I keep trying to reset it by unplugging it from the wall and messing with the button that moves it up or down. Nothing! It remains therestuck. Needless to say, this has made running all the more strenuous. It hurts! My ankles and calves sometimes feel like they can take no more. My breathing becomes heavier and harder to control. At times I have to gently hold the handle with at least one hand in order to be able to press on and continue this dreaded incline stretch. When I finish up and step off, I feel some tingling in my legs and begin to breathe normally again. As the days go on, I've noticed that the soreness has increased. "Yay!" I say. "This incline is not for nothing! I have to be getting stronger. My muscles have to be developing more than they would without the incline. Those nice quadriceps might come about after all," I laugh to myself.
Last night, I got on the machine to work through the pain. I noticed I could not really run this out like I can on some days. I felt a little weaker, so I continued walking rather than running. I still felt the burn and the pain and the shortness of breath. At times, I had to gently hold onto the handle bar to avoid falling off. I started messing with the incline button again. Again, nothing! In my heart, I started complaining, Why can't this treadmill just adjust to my liking and comfort? Then, as the Lord would have it, something occurred to me: Stop complaining and listen up!
I started to realize that this isn't just about what was happening in the here and now physically, it's deeper than that. It has spiritual meaning. I am currently stuck on an incline in my Christian walk. Trials, tribulations, and persecution have been on the rise and it hurts just as this incline does. There have been some painful days and nights lately but I press on, believing the words of Jesus "These things I have spoken to you, that in Me you may have peace. In the world you will have tribulation; but be of good cheer, I have overcome the world" (John 16:33). I don't think Jesus is saying to be happy about these tribulations and pain, but His message is one of hope. In the pain we can take heart and stand on this promise of hope. I can hear Jesus saying, "It's okay, these things will be over soon, I have overcome them. They are only temporary, My daughter."
As I think about my lack of strength on this incline, I also think of how God's Word tells us that we can do all things through Christ who strengthens us (see Phil. 4:13). When I look down at my hand and think about how I have to gently hold the handle, I remember that the Lord assures us that He holds us by His right hand. "Fear not, for I am with you; be not dismayed, for I am your God. I will strengthen you, yes, I will help you, I will uphold you with My righteous right hand" (Isa. 41:10). During the pain, He provides strength, and He is holding us with His righteous right hand. We are not in this alone.
What about complaining and messing with the buttons? Stop it! Let God do His work. I notice that if I am praising God and focusing on Him while on this incline, He supplies more strength to press on and endure. This also happens on my walk with Him. If I do not focus on the circumstances but instead praise and worship my Lord with a thankful heart, my perspective changes and He is then glorified. The same happened for the apostles. In the book of Acts, Paul and Silas were thrown into prison, but instead of focusing on their circumstances and pain, they praised the Lord. Their praise and worship moved the heart of God. "But at midnight Paul and Silas were praying and singing hymns to God, and the prisoners were listening to them. Suddenly there was a great earthquake, so that the foundations of the prison were shaken; and immediately all the doors were opened and everyone's chains were loosed" (Acts 16:25-26).
In the same way that this incline is actually helpful to meI am getting stronger and muscles are being developed and changedthe Lord matures us through the trials, tribulations, and persecutions of this life. "We are hard-pressed on every side, yet not crushed; we are perplexed, but not in despair; persecuted, but not forsaken; struck down, but not destroyed" (2 Cor. 4:8).
It is my prayer that as we step into this new year, we would keep our eyes on the prize, focusing not on what is behind us but rather pressing on to what is ahead of us (see Phil. 3:13-14), trusting God, working through the sometimes burning pain of the incline, knowing that He will strengthen us and be with us through it all, trusting that He is holding our hand and He is maturing and growing us in Him.
These incline moments produce wonderful godly results! Sometimes you may not be able to run, but I encourage you to keep on walking. Don't quit! Let it be our New Year's resolution, not to just do the extra workouts and increase the bodily exercise, but to strive for that which is greater. "For bodily exercise profits a little, but godliness is profitable for all things, having promise of the life that now is and of that which is to come" (1 Tim. 4:8). Amen?
Zanetta Romero
There are currently no comments for this article.