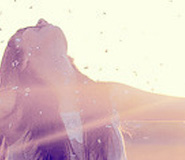 It's Okay to Overeat...
Nov 19, 2012 / Comments (1) / Written by Zanetta Romero
I was outside running the other day and started thinking to myself, Don't overeat this year during the holidays, Zanetta! I don't know about you, but during the holidays I get pretty excited about all the different seasonal foods and desserts. Each year I have good intentions not to overeat but most years I find myself doing the complete opposite and overindulging.
As I continued on this run, I heard "It's okay to overeat..." I was shocked at that phrase. Is that You speaking, Holy Spirit, or my flesh making excuse for me to satisfy its desires? Next thought... "Indulge and overeat in My Word, which is your real food."
The past few months have brought their challenges. The Lord has been calling me to step out in bold obedience in many areas of my life. I have been doing it, but let me assure you that it has not been in my own strength. Many times I have felt unsure of the choices I should make, I have felt discouraged, I have felt overwhelmed, I have been worried, burdened, at times even hopeless. But what I've been noticing even more so lately is that when I get into God's Word, He gives me encouragement, He takes the worry away, He provides hope, He has even given me clear direction on choices as I have sought Him out in His Word. He not only brings all this comfort to my heart but He teaches me His character, tells me of His love for me. He corrects me when I am wrong and disciplines me so lovingly. He shows me that His promises are yes and amen, that He is sovereign, that He is faithful, that He has never let down one of His children nor failed them. He tells me of Jesus and the cross, and speaks of the sacrifice made for me. He gives me life, He restores my soul.
As I gain perspective my heart cries out, "Lord, what would I do without Your Word?" I am so thankful for it! It's the place where we can find true rest, learn who God is, and get to know Him personally. He wants to talk to us! It's in His Word that we can really be full. This fullness is the kind that is not perishable like our temporal food. It's the fullness that is so richly satisfying and has the ability to come out of us and be poured out onto the lives of others. It's the Food that keeps on giving and provides life to the body. It's not the food that leaves us feeling unhealthy, guilty, and lethargic. Is this what Jesus meant when He told the disciples in John 4:32, "I have food to eat of which you do not know"? And in verse 34, the Scripture says Jesus said to them, "My food is to do the will of Him who sent Me, and to finish His work." How can we know what Jesus meant and also do the will of the Father if we are not partaking of the same food on which our Savior feasted?
Jesus says in John 6:56-58: "He who eats My flesh and drinks My blood abides in Me, and I in him. As the living Father sent Me, and I live because of the Father, so he who feeds on Me will live because of Me. This is the bread which came down from heaven - not as your fathers ate the manna, and are dead. He who eats this bread will live forever."
Jesus is the Word (see John 1:14). What a gift! When we spend time in God's Word, we are spending time with Jesus. He is the Word, who teaches us the Word that gives us life - life eternal.
I pray we would be thankful for His Word, that we would get in it daily and not take it for granted. I pray that this Thanksgiving we would make the choice to be stuffed as we overeat of this life-giving Food and be a blessing to those around us who may not know Christ. "For man shall not live by bread alone, but by every word that proceeds from the mouth of God" (John 4:4).
Would you, believer, be committed this year and join me? Put down the extra slice of pie, pick up the sweetness of God's Word (Psalm 119:103), and let it satisfy you, be full on it and share it with your loved ones. May God be glorified in and through us as we express our thankfulness and are willingly obedient to Him. Amen?
"Therefore, whether you eat or drink, or whatever you do, do all to the glory of God" (1 Cor. 10:31).
Zanetta Romero
Well said.. and I will join you. ;)
Posted Nov 20, 2012 12:05:35 PM by Stephanie Tapia