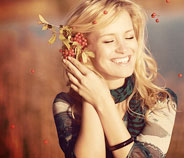 Gratitude and the Art of Thankfulness
Nov 19, 2012 / Comments (0) / Written by Jaime Carrillo
"Silent gratitude isn't much use to anyone." - G.B. Stern
The other day I found myself daydreaming of personal chefs and cleaning crews. Weeks of various sicknesses had been circulating in our household, the "to-do" list was growing, and the exhaustion was mounting. The temptation to complain and fall into self-pity was palpable. Then a few urgent prayer requests came across my computer. I got word of the situation in Israel. Perspective.
What an opportune time to reflect on gratitude and the art of thankfulness. Paradigms have shifted within as I swim in a sea of thoughts about the changing world around us. Fresh perspective has influenced how I ponder life, love, and the pursuit of happiness. As I spin on "The Potter's Wheel," I can feel His hand stretching me as only He can.
And so here I sit, the blackness of night has unfolded like a velvet cloak, a pile of books and blankets by my side, cozying up while the chilly weather sweeps through my corner of the world, and I purpose in my heart to count my blessings.
As I do, I'm reminded of how thankful I am for home. For warmth. For comfort. For the sound of children's playful laughter rising in the air. And, for the luxury of participating in relaxation, while other parts of the world are in a state of unrest. Grateful for a tank full of gas, a fridge full of food, and a closet full of clothing. For the conveniences that we often take for granted and the freedom to enjoy all of the above without fear.
I'm reminded of how each day we've been given the freedom to choose to live more from intention and less from habit. How each day we've been given the choice to be good stewards of the gifts we have been given...our talents, our time, our relationships, our finances. Each day we have the choice to express our gratitude to those around us, and to the One who gave us all, so that we could become His.
Oh how thankful I am to be His. I am so very humbled when I think of how God took a broken vessel like me, and made me useful. Beautiful, even. Restored.
What about you, what are you thankful for? I've enjoyed seeing expressions of gratitude this month in popular social networking platforms like Facebook and Twitter. It's so refreshing to see people talk about what they love, rather than rant about what they hate. Joy is contagious. Whether you tweet what you're thankful for, jot it down in a gratitude journal, make a call, or shoot a text to someone you love, I encourage you to take a moment and give thanks.
"In everything give thanks; for this is the will of God in Christ Jesus for you" (1 Thess. 5:18).
Jaime Carrillo
There are currently no comments for this article.